Food talk
Parwal pleasure
Bharwan dum ke parwal is a simple light dish, particularly suited for summer, writes Pushpesh Pant
The squash vegetables come into their own during the summer months. The plebian fare — kaddu, lauki, turai, tinda, ghiya — that is looked upon with disdain the year round suddenly appears, if not attractive then inescapable. Other vegetables are not only scarce but these are exorbitantly expensive. In days gone by, the summer specials were relished, not resented. Traditional physicians — hakims and vaidyas — prescribed these coolants as seasonally appropriate and women in the house and neighbourhood competed with one another displaying recipes that transformed the ordinary into sublime. We see no reason why the practice of eating seasonally sensibly should not be revived. Parval known as potol in Bengal (where to give the bhadrolok their due, it is considered a delicacy) belongs to the squash family — it is wax gourd to the gora sahibs — and lends itself to a variety of treatment in the kitchen providing a refreshing relief from the surfeit of its cousins. You can enjoy it as the bhaja — sliced and fried, or combine it with potatoes in a golden-hued curry redolent with green cardamom and cinnamon. You can pack it with myriad filings vegetarian and meaty, try to serve it in a do pyaza incarnation and we have encountered it as a delicate dessert overflowing with mildly sweet saffron-tinged clotted cream aspiring to be chhena and coming quite close. We share with our readers a simple light dish particularly suited to summer done in the dum style. The bharwan part is the challenge. Avoid heavy, rich ingredients and keep improvising. You will never tire of this squash. Makes a great wrap inside a phulka even when cold.
Chef's corner
Ingredients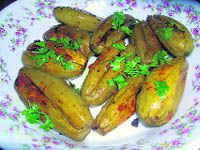 Parwal (small, tender ones) 500gm
A medium onion or two-three bulbs of spring onions
Coriander powder `BD tsp
Dried mint leaves 1 tsp
Green chillies (slit and deseeded, chopped fine) two
Oil 50 ml
Salt to taste
A sprig of fresh coriander
Method
Wash and peal the parwal. Make a deep slit lengthwise ensuring that the halves are not separated. Scoop out the seeds and discard. Slice the onions fine. Heat the oil in a non-stick karahi and stir-fry the onions till these are pink. Sprinkle the coriander powder, lightly crush the cardamom and add to the onions. Also put in the crushed mint leaves and chopped chilies. Stir for about 30 seconds more, remove from flame and let cool a little. Fill the parwal cavities with this filling distributing it equally. Put the parwal in the karahi. Cover and cook on very low heat till done to taste. Inspect occasionally and sprinkle a few drops of water if required to avoid scalding. Ideally, the parwal should retain a crunch as well as its succulence. Garnish with hara dhania and serve. (A tbsp of hung yogurt or homemade chhena can render the filling moist if you prefer it that way. You may also like to substitute green chillies with green peppercorns if these are available. A sprinkling of sonth (dried ginger powder) is quite enticing.