ART & LITERATURE

'ART & SOUL
ENTERTAINMENT

TELEVISION

GARDEN LIFE

NATURE

FOOD TALK

CONSUMER RIGHTS

FASHION

HOLLYWOOD HUES

BRIDGE

ULTA-PULTA
EARLIER FEATURE

TRAVEL

RELATIONSHIPS

DREAM THEME

TIME OFF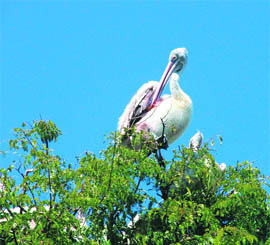 As many as 88 species of Indian birds are severely endangered. Sounding a red alert, Asad R. Rahmani says it is time to take immediate steps to save them
As far as bird diversity is concerned, India is a blessed country. It has more than 1200 bird species, or over 13 per cent of the world's bird species. But India also has the unfortunate distinction of being third among the countries having the largest number of rare and threatened species. Only Brazil and Indonesia have more threatened species of birds than us.
Back from the brink: The Spot-billed Pelican, which was considered 'vulnerable' in 2004, is now 'near threatened' as there has been considerable recovery in its population. — Photo by writer

Colours of Mt Abu
Chandan Sen
According to a legend 'Abu' stands for the son of Himalaya, deriving its name from Arbuda, the powerful serpent that rescued Nandi, Shiva's bull, when it was trapped in a deep gorge and could not free itself. The place thus got famous as Mount Arbud or Mt Abu as it is known now.
Navratilova's artful return
Arifa Akbar
For a woman who dominated tennis for a quarter of a century and won many grand slams, Martina Navratilova's departure was but a natural loss to the game when she announced her retirement from the sport in 2006. This summer Navratilova hopes to make a comeback to Wimbledon, not to play tennis, but as one half of an artistic duo.
Actors in a different role
Derek Bose checks out what is it about film direction that fascinates so many actors
Aamir Khan's outburst soon after the release of Taare Zameen Par best illustrates the agony and ecstasy of an actor making the transition to film direction: "The past few months have been the most exciting, nerve wrecking, exhausting, rejuvenating, draining, enriching. I feel like I've been stuffed into a washing machine, which doesn't have an 'off' button.
Sameera's new avatar
Shoma A. Chatterji
You have come a long way since your debut in 2002 with Maine Dil Tujhko Diya
I consider myself lucky to have worked with the best directors in the industry. It has been an uphill climb for all of us here, including Shah Rukh Khan. I have worked with directors ranging from Sanjay Gupta through Ram Gopal Varma to Buddhadeb Dasgupta and Aruna Raje. I worked with Mira Nair for a short film Migration, which was screened at the Toronto Film Festival in 2007.


Women of substance
Nirmal Chandel, widowed at 23, was one of the 3,000 rural women from eight districts of Himachal who walked to Shimla to hand over a charter of demands of single women to the CM. She is now the state-level coordinator of Ekal Nari Shakti Sangathan. Today over 6,000 single women of the state are part of the organisation, writes Nirupama Dutt
I would labour all day in the fields and often sleep there, hoping for a snake bite that would put an end to my life," recalls Nirmal Chandel (44). Married at 18, this comely Rajput girl of Sarkaghat in Mandi district of Himachal Pradesh was widowed at 23 and condemned to a life of unpaid labour and a colourless existence.