Navratilova's artful return
Arifa Akbar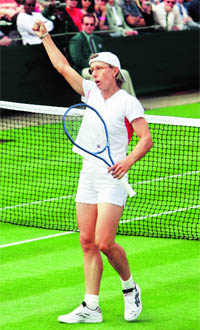 Holding court in her playing days — A file photo
For a woman who dominated tennis for a quarter of a century and won many grand slams, Martina Navratilova's departure was but a natural loss to the game when she announced her retirement from the sport in 2006.
This summer Navratilova hopes to make a comeback to Wimbledon, not to play tennis, but as one half of an artistic duo.
Navratilova, 51, has collaborated in an art "happening" in which she hurls paint-covered balls on to a canvas. The technique, called "tennising", was conceived by the Czech artist, Juraj Kralik, who asked the former tennis star if she would help create the works.
For the past eight years, the pair has worked together to create 300 works, which now sell for anything up to `A3 126,000. Kralik decides at which angles Navratilova should hit the ball, while she enacts his wishes on tennis courts across the world.
The pair will unveil their works later this month in two London exhibitions, Art Grand Slam at Fairway Village in Wimbledon and Smithfield Gallery. They also hope to make new works during the Wimbledon Championships this month. If the venture is successful, Navratilova hopes to pursue art as a second career, turning it into a franchise where, she said, "we can combine art, business and charity".
"At first, I could not quite imagine how the project would work, but Juraj's enthusiasm convinced me.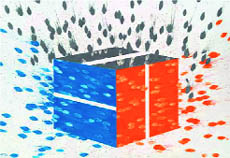 FROM COURT TO CANVAS: Tennis great Martina Navratilova has collaborated in an art "happening" in which she hurls paint-covered balls on to a canvas. The technique, called "tennising", was conceived by Czech artist Juraj Kralik
"I became fascinated. I am always looking for something new, something different, something challenging where I can have a free rein," she said.
"After a few more meetings, we agreed that we would start in the Revnice clay court tennis club in the Czech Republic, where I first learned to play tennis. I was happy that the project would start on home soil.
"My favourite is a large canvas called Way of My Life. It features two loops formed with multi-coloured tennis ball impacts that spiral upwards to the top edge of the painting. This image represents the trajectory of my career, with a small loop and a big loop, and at the end it shows I am retired."
While Kralik has reportedly said he will only work with Navratilova, she hopes to recruit her one-time tennis rival, Chris Evert, and her favourite doubles partner, Pam Shriver, to make future works.
For Kralik, "tennising" evolved from his fascination with the various indentations left on clay courts by shoes and balls after a tennis match.
"I was fascinated by clay courts (the only kind of courts existing in Czechoslovakia) when they were watered, swept and lines drawn on them with lime. A court with drawn lines reminded me of a Mondrian painting, ready for a sports match. However, I also saw something more in it where the impressions of balls and tennis shoes and the performance of the athletes' movement could create a fine, fascinating work of art," he said.
Venetia Lang, director of Smithfield Gallery, said the works would appeal to London collectors. "They are large, vibrant works, colourful and contemporary, " she said.
By arrangement with The Independent