Actors in a different role
Derek Bose checks out what is it about film direction that fascinates so many actors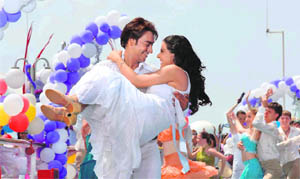 (Clockwise) Anupam Kher (Om Jai Jagdish),
Sunny Deol (Dillagi) and Ajay Devgan (U, Me Aur Hum) are among the actors who have tried their
hand at direction
Aamir Khan's outburst soon after the release of Taare Zameen Par best illustrates the agony and ecstasy of an actor making the transition to film direction: "The past few months have been the most exciting, nerve wrecking, exhausting, rejuvenating, draining, enriching. I feel like I've been stuffed into a washing machine, which doesn't have an 'off' button. After this, I really need to be put out to dry in the sun and left alone. Am I ever going to recover?"
Comparatively, Ajay Devgan has been keeping his cool after U, Me Aur Hum marked his directorial debut. Having witnessed two one-time directors in the family — papa Veeru Devgan with Hindustan Ki Kasam and brother Anil with Raju Chacha — he knows how to put money where his mouth is. He has already begun work on his second film (hitherto untitled) reportedly with Kareena Kapoor in the lead.
Then there are several senior actors like Rishi Kapoor (Aa Ab Laut Chalein), Sunny Deol (Dillagi), Anupam Kher (Om Jai Jagdish) and Naseeruddin Shah (Yun Hota To Kya Hota) who have burnt their fingers trying to be full-time directors. All of them have wanted to follow the footsteps of Subhash Ghai and Rakesh Roshan, the most successful actor-turned-directors around. And now, there is a new generation of actors coming up, like Jugal Hansraj (with Road Romeo) and Kamal Amrohi's grandson, Mashoor Amrohi (Hum Sey Hai Jahaan), ready to cut their directorial teeth.
What is it about film direction that draws so many actors?
One way of addressing this question is to regard such talent as actors who are either well past their prime or non-starters in the first place. Top ranking stars like Shah Rukh Khan, Amitabh Bachchan, even Rajesh Khanna, never considered directing movies. They rather chose to be producers, gambling on one film at a time and simultaneously continuing with their acting careers. They are not interested in being a Raj Kapoor or Guru Dutt — who, in any case, belonged to another era when the studio system was in place. In their logic, it is not the director but actors who star in films that the public recognises and draws the crowds to theatres.
The other way of dealing with the subject is to recognise the storyteller within every sensitive artiste who emotes in front of the camera. It is this storyteller who finds his release on crossing the floor and taking his position behind the camera. Little wonder, discerning cineastes like Naseeruddin Shah, Anupam Kher, even Ashutosh Gowarikar (yes, he acted in almost 20 films before making a name as the director of Lagaan in 2001) did not care to appear in the films they directed. They know well that direction is a completely different animal, from acting.
For the common public though, direction would seem a natural progression for actors and nobody is surprised when a certain Sunil Shetty or say, Sushmita Sen decides to be a director. There is always an easy assumption that performers are naturals for the quick glide to the other side of the camera. This is true of Hollywood also, right from the days of Charlie Chaplin and Orson Welles. Today, all major matinee idols — be it Clint Eastwood (Million Dollar Baby) or Robert Redford (Milagro Beanfield War), Kevin Costner (Dances With Wolves) or Mel Gibson (Apocalypto), Robert De Niro (The Good Shepherd) or George Clooney (Confessions of A Dangerous Mind) — are doubling as directors.
It would be hard to say whether these gentlemen eventually make better (or worse) filmmakers than those who have no experience in acting at all. Even more difficult to deduce is whether an actor performs better in the film he directs or if he excels when relieved of directorial duties. But one fact that cannot be overlooked is that filmmakers who were once actors always have something to bring to the table that other directors don't. And this has a lot to do with empathising with the cast. After all, it is the director's job to create a work environment in which actors are able to find their characters.
More importantly, what no non-actor can do — be it Shyam Benegal or Karan Johar, Raju Hirani or Nagesh Kukunoor — is to get into the mind of an actor and assess his strengths and weaknesses. He does not have to be a director like Naseeeruddin Shah who is expected to additionally wear the hat of a mentor on the sets. Even an Aamir Khan can instinctively size up an actor, figure out where exactly he must work on, when to let go, what must be exploited or overlooked, how best to get him into the skin of a character`85 technicalities that clue him on to extracting the desired performance and yet not appear obtrusive. This is a rare skill that comes naturally to an actor-director and in many inexplicable ways, helps realising his vision on screen.