Sameera's new avatar
Shoma A. Chatterji
You have come a long way since your debut in 2002 with Maine Dil Tujhko Diya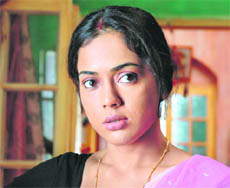 Buddhadeb Dasgupta's Kaalpursh brings out new facets of Sameera Reddy who is generally associated with glamourous roles
I consider myself lucky to have worked with the best directors in the industry. It has been an uphill climb for all of us here, including Shah Rukh Khan. I have worked with directors ranging from Sanjay Gupta through Ram Gopal Varma to Buddhadeb Dasgupta and Aruna Raje. I worked with Mira Nair for a short film Migration, which was screened at the Toronto Film Festival in 2007. I play an HIV+ housewife. The Voyeurs, my second film with Buddha-da, was screened at the same festival.
How did it all begin?
When I was still studying at the Sydenham College in Mumbai, I happened to be chosen for a Pankaj Udhas video called Aashita. My sisters, Meghna and Sushma were also very inspiring for me. I used to be a fun-loving, happy-go-lucky girl in college. But after this video, I became serious and decided to concentrate on two things – training in Kathak and acting in films. After my debut in Maine Dil Tujhko Diya, I did two Telugu films, Narasimhudu and Jai Chiranjeeva.
How do you look at the polarities between the two characters you have played in Race and Kaalpurush?
I am not bothered about polarities because the films are different, the directors are different and even the audience is different. Though I consider myself a spontaneous actress, I need a director to guide me so that it makes me a director's actress as well. Playing a dumb bimbo in Race is equally important to me as is playing Supriya in Buddha-da's Kaalpurush. I was looking for a comic role after serious stuff like Sanjay Gupta's Musafir and Ram Gopal Verma's Darna Mana Hai. Kaalpurush made me understand and learn to love what I was doing.
How close are you to Supriya, the ambitious housewife in Kaalpurush?
I loved the character of Supriya because it has several shades to it, beginning as a hard and bitter woman and then, unable to cope with a husband who turns out to be a 'failure' by her definition, she slowly realises that she must become independent. The great American dream is just a trigger to turn her into a writer of travelogues on places she has never visited but has seen only on video. Love for Supriya, slowly turns to pity, as her husband tells his father at one point in the film. I do not equate any character I play with my real self as Sameera, the woman and Sameera, the actress. An actress need not be close or distant to a character.
Which scene in the film do you carry with you?
I love the scene in which I play the prostitute who the hero visits one night. She finds his behaviour rather strange, especially when he asks her, 'why don't you put on your sari?' Then, with a sad and puzzled expression on her face, she says, "You wonbegin to pull at it again, will you?" She somehow feels he is a good man but is confused and sad. It is a scene I will carry with me forever. Thanks to Buddha-da, he really pushed me beyond my expectations. That is why when he asked me whether I would like to feature in The Voyeurs, I did not even ask him for the script. It has been a pleasure working with him.
Your future projects?
I am playing the female lead, a Naxalite, in Aruna Raje's Red Alert. My co-stars are Sunil Shetty, Ayesha Dharkar and Naseeruddin Shah. Then there is Mahayoddha Ram, an animation film where I have done the voice-over for Sita, and two comedies. — TWF