Women of substance
Nirmal Chandel, widowed at 23, was one of the 3,000 rural women from eight districts of Himachal who walked to Shimla to hand over a charter of demands of single women to the CM. She is now the state-level coordinator of Ekal Nari Shakti Sangathan. Today over 6,000 single women of the state are part of the organisation, writes Nirupama Dutt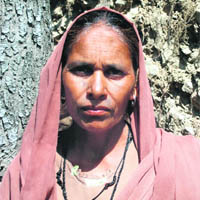 Champa Devi, belonging to Solan district of HP, is ready to fight for her land rights. — Photo by WFS
I would labour all day in the fields and often sleep there, hoping for a snake bite that would put an end to my life," recalls Nirmal Chandel (44). Married at 18, this comely Rajput girl of Sarkaghat in Mandi district of Himachal Pradesh was widowed at 23 and condemned to a life of unpaid labour and a colourless existence. Wearing white or grey widow's weeds, she took care to stay away from any auspicious ceremony, for she was branded as 'unlucky'.
Today, despite all odds, Chandel is the state-level coordinator of the single women's collective, Ekal Nari Shakti Sangathan (ENSS), having grown from strength to strength over the past two decades when she left her marital home to seek work and fight her own battle. It was a proud moment for her when she recently handed over a charter of the demands of single women to Chief Minister Prem Kumar Dhumal outside the state Assembly in Shimla. She was one of the 3,000 rural women from eight districts who walked for over three days, through rain and hail, covering a distance of 30 km from Dhami to the state capital.
The people of Shimla had seen nothing like it and many urban women joined their rural sisters, raising slogans and singing songs of change. Even cynics were moved by the genuineness of the oppressed women, who showed the spirit that could move mountains.
The single women in the hill state moved out of the shadows of marginal existence to assert their identity when the Society for Uplift Through Rural Action (SUTRA), with support from the Ekal Nari Sangathan, Rajasthan, initiated the formation of the ENSS in HP. Today, over 6,000 single women—divorced, deserted, unmarried or those whose husbands have gone missing—are a part of the sangathan, which has presence across eight districts. Chandel recalls: "The first few meetings saw only tears. Sharing of experiences came later and then the strength to move forward."
Socially stigmatised, they are condemned to live a life of dependency, bereft of any dignity. Subhash Medhnapurkar, director, SUTRA, says: "Women are neither given any share in the husband's property nor maintenance by the husbands in case of divorce or desertion." More often than not they also do not get a share in the parental property. The law that gives women an equal right in the property is rarely implemented.
Take the case of Champa Devi (59) of Upper Barho village in Solan district. Married at nine, she bore seven children (four died in infancy) until she was 20—when her husband died. She was left with the care of three young daughters and no source of income. "They refused me land and broke the roof of my house, hoping that I would return to my parents' home. I got two fields after a long fight and they made me repay the money that had been spent on my husband's last rites." The brave Champa let out the fields because they were far from the village and rented a plot close by. By growing tomatoes, she could marry her three daughters.
But her troubles were not over. One of her daughter's husband proved to be a wife-beater, and he even started beating Champa to get her to transfer her plot to him. When Champa resisted, he deserted his wife, Shankuntala Devi. Today, the mother and daughter live together and grow tomatoes and rear a couple of cows for their subsistence. Champa now enjoys respect in the village and she says: "I am no longer scared of anyone. I want every woman to fight like me." She has even managed to get pension of Rs 200 per month. However, not all single women have been able to get their due because most of them do not even know what is rightfully theirs.
Chandel says: "When no political party raised our issue in the winter and Budget sessions of the Assembly, we were disappointed and we decided to march in protest." While the Chief Minister accepted the demand for a ration card to single women, which would help them become eligible for several schemes to support their children's education, he also announced free medical care and early disposal of the pending pension cases. But the major demand of a grant of two acres of land each to every landless single woman from the government's surplus pool was met with silence.
Kishwar Shirali, a psychologist and activist who came with 300 women from Kangra, says; "We have gained a little and we will continue our struggle for more. The daughters of the hills will strive till they get their share of the good earth."
The good earth, however, continues to evade them. For Shi Chi Angmo (29), who came all the way from Lahaul on the Indo-Tibet border to participate in the padyatra , the real issue is land rights for the tribal women across the country, which would require a constitutional amendment. "As tribal women, we enjoy a lot of freedom in most areas of life but we have no land rights. The worst sufferers are widows with female children." Angmo is single by choice and some years ago when she opened a dhaba, she had to face the ire of the boys of the village, who felt this was not a woman's job. A leading activist and Buddhist, Angmo is the
Bharatiya Janata Party (BJP) president, Mahila Morcha, Lahaul & Spiti. "I have had to fight every step from higher education to activism and I am determined to fight for our land rights, too," she says.
Nirmal Chandel, Champa Devi and Shi Chi Angmo are among those who have come a long way from their past. They are leading the way for millions of single women living in the margins of society.
The march to Shimla broke many stereotypes. The TV channels inquiring about celebrities leading the march were surprised to see Raj Kumari (85) and her deserted and blind daughter, Rita Kumari, from Kangra in the forefront. The participants had different political leanings, some owed allegiance to the Congress, others to the BJP. But on this issue, they were united — not as activists but as women. — WFS