TELEVISION
Dream duo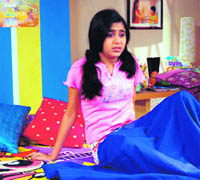 Sunaiana-Mera Sapna Sach Hua will be aired soon on Pogo channel
Itís been a steady rise ever since Deeya and Tony Singh produced Jassi Jaisi Koi Nahin. Today the duo and their production house DJs are giving stiff competition to even a serial-producing factory like Balaji Telefilms.
With the release of their latest show Sunaiana-Mera Sapna Sach Hua on Pogo channel every Sunday at 10 a.m. Deeya and Tony Singh have five serials running simultaneously on different channels. Thereís Left Right Left on Sab TV, Radha Ki Betiyaan Kuch Kar Dikhayengi on NDTV Imagine, Annu Ki Ho Gayee Waah Bhai Waah on Star One and Jhoomein Jiya Re on Zee TV. The duo had started off with successful shows like Just Mohabbat on Sony TV and Banegi Apni Baat on Zee.
Devil woman
Ridheema Tiwari a.k.a Sweet Mehek of Annu Ki Ho Gayee Waah Bhai Waah (Star One) is all set to turn into a devil.
The actress has signed a new serial Simply Sapney, to be aired on Zee Next soon, where she will be enacting the role played by Meryl Streep in The Devil Wears Prada. She is shown as a savvy fashionista, Sonia Khan, a much-adored haute couture icon but not a nice person in real life.
Ridheema says, "I loved the movie and when a similar role came my way in an Indian backdrop, I grabbed it. Also, I'm a big fan of Meryl Streep and have watched every movie of hers. For this role, I have been watching Devil`85over and over again to make my role picture perfect."
It may be a case of preparing well for a role but someone should tell her not to internalise the movie so intensely lest she start becoming a poor copy of Streep!