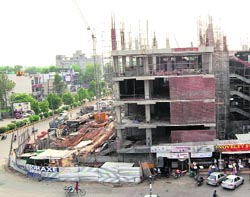 Room for manoeuvre
PUDA and PIDB are selling too rosy a picture to investors for new hotels in Amritsar, writes Varinder Walia
The Punjab Infrastructure Development Board (PIDB) and the Punjab Urban Planning and Development Authority (PUDA) have tried to lure investors to construct five-star and three-star hotels on the public-private-partnership (PPP) model by presenting a rosy picture about the development of the holy city of Amritsar.
Slow take-off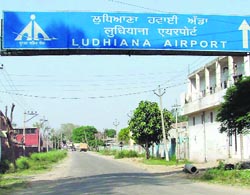 The Sahnewal airport project has not fuelled much investment in the surrounding land, writes Kanchan Vasdev
Two months after Punjab chief minister Parkash Singh Badal announced the setting up of a domestic airport at Sahnewal, investors are still adopting a wait-and-watch policy for bringing in big bucks. The investors got taken for a ride when they invested in land at three different places in the district where airports were announced earlier.
Photo by Inderjeet Verma
Lush Living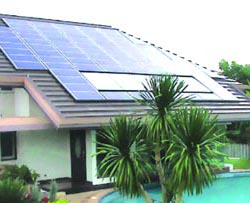 Building practices going green
Driven by the changing dynamics, the Indian realty market will undergo a transformation and adopt "green building practices," a new way by which buildings use natural resources such as water and energy and reduce the adverse impact on the environment. "This transformation will be driven by various combinations of regulation, government incentives and changing market dynamics," according to r.e.design, Asia's first green real estate guide released in Bangalore.

Solar panels and other energy-conserving devices are being adopted in new construction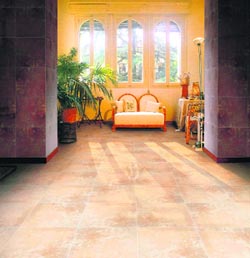 GROUND REALTY
Flooroscent
Jagvir Goyal
A few years back, marble flooring was the unanimous choice for housing units. Before that, terrazzo flooring was considered a luxury. Simple, plain cement concrete flooring was used in bedrooms, while terrazzo was laid in the drawing room and the bathrooms only. Multicoloured designs were added to the terrazzo flooring to make it look attractive. The past few years have seen a sea change in the market trends. So many types of floorings are available now that a house builder finds himself spoilt for choice. Different types of flooring can be used for different rooms.
DLF, Unitech & Omaxe scrips go for a toss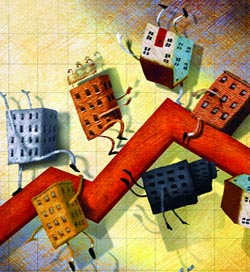 Stock shock
The volatility in the capital market has hit realty shares the hardest and they have been the worst performers this year, writes S.C. Dhall
The real estate stocks were battered heavily early this week. They suffered one of the largest sectoral losses in recent times. The fall in the sector was mainly led by DLF, which hit the 52-week low on the back of interest rate sensitivity and slowdown concerns in the sector. Among the major losers were Unitech Ltd, which was down 9.3 per cent. Housing Development and Infrastructure Ltd was down by 8.81 per cent, while Ansal Infrastructure fell by 8.10 per cent. The scrips of Parsvanth and Omaxe too fell heavily since January, 2008. The uncertainty in the capital market has hit realty stocks the hardest and they have been the worst performers this year, having shed over 50 per cent of the 50-week peak reached in January.
Tax tips
Rights on remarriage
S.C. Vasudeva
Q. I purchased a plot in Chandigarh in the name of my wife without her Power of Attorney in 1975. Afterwards, we both constructed a house on the plot with joint efforts, with her raising a loan from the Punjab Government.