ART & LITERATURE

'ART & SOUL
ENTERTAINMENT

TELEVISION

GARDEN LIFE

NATURE

FOOD TALK

CONSUMER RIGHTS

FASHION

HOLLYWOOD HUES

BRIDGE

ULTA-PULTA
EARLIER FEATURE

TRAVEL

RELATIONSHIPS

DREAM THEME

TIME OFF
There is no end to a foodie's search for the perfect taste. All stops can be pulled out to fulfil the craving for a dish. Pushpesh Pant sets out to find the best kebab, daal makhani and biryani and shares his views with the readers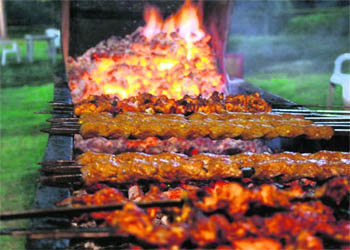 Kebab is the quintessential Indian delicacy — a non-vegetarian preparation that is both a starter and an accompaniment. It is celebrated in Urdu poetry and folk idiom. Till recently, it was believed that the Turko-Afghan had imported the kebab into the subcontinent. However, some food historians maintain that ancient Indians had kebab of their own — the bhadritaka and shule. But what is beyond dispute is that good life is synonymous with kebab, shabab and sharab (a tasty meaty morsel, wine and beauty), and an unwelcome intruder making pleasant company of two a crowd is likened to a bone in a kebab (kebab main haddi).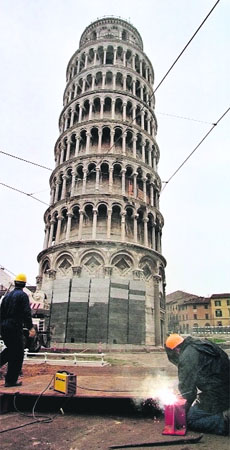 The Leaning Tower of Pisa has stopped moving for the first time in its 800-year history. According to engineers, who have stabilised the monument after hard work of more than 10 years, it should remain so for the next 300 years. Currently, the 183-foot tower leans 13 feet off centre, and has been straightened by 14.5 inches since 1999 with the help of a £20 m restoration project. The tower, which has been leaning almost since the building work first began in 1173, was closed to the public in 1990 because of safety fears — Photo by Reuters
Painting history on canvas
A retrospective of the works of Elizabeth Brunner, who painted some of the great Indian visionaries, was recently held at the Hungarian Cultural Centre in Delhi, reports Mukesh Khosla
Elizabeth Brunner first saw India in her dreams. She was awakened one night by a strange illumination. "I was shaken; I still get gooseflesh when I think of it," she recalled in one of her last interviews before her death in 2001.
A drama called Delphi
Sujata Varadarajan visits the archaeological site of Delphi, which is a Unesco world heritage site
Delphi, considered by ancient Greeks to be 'the navel of the earth', is located dramatically on the edge of Mt Parnassus in the valley of Phocis in Greece. In Greek mythology it was the site of the Delphic oracle, the most important oracle in the classical Greek world.
Man of many roles
Most of the television stars dream of making it big on the silver screen. They look at the big screen as a natural progression from the smaller one. The trend has been growing in the recent past with Prachi Desai, Pawan Shankar, Arjun Punj and Shama Sikandar to name a few.
INTERVIEW
'I can relate to mother roles'
After re-establishing her footing in Hindi films,
Rati Agnihotri is all set to debut in Bengali cinema.
Shoma A. Chatterji in a tête-à-tête with the
veteran actor
What drove you to Bengali cinema?
The reason is simple. It is not that I did not want to act in Bengali films when I was at the peak of my career. No one from Tollygunge ever approached me for a Bengali film. I would have jumped at the chance, had it come my way.
Vinod never got his due
Harjap Singh Aujla on the music director from Punjab who faded into oblivion despite giving many hits
One of the most talented music directors that Punjab has produced was Vinod. His real name was Eric Roberts but for the film industry he chose a more familiar name Vinod. According to Sardul Kwatra, another Lahore-born music director who knew Vinod since his days in Lahore, as a child Vinod was fascinated by the band music played during Hindu weddings.


Children of misfortune
Abung and Nanao's double-storey house was once a happy home — complete with parents, grandfather and two sisters. Today the brothers are among scores of orphans of HIV+ parents in Manipur. The total number of people living with the virus in this state is 27,961, writes Thingnam Anjulika Samom
Piping hot meals, a roaring fire in the hearth and family and friends sitting together, sharing tales of joy and sorrow—the kitchen is often the most bustling part of a Manipuri house.
United colours of gold
Pink and green gold jewellery items are the hot favourites, but grey gold is also popular, says Shivani Jayaram
If the 1990s saw the advent of light-weight jewellery for everyday wear, the present trend is coloured gold ornaments matching with clothes and probably bag and sandals. Gold that's gold in colour is boring. Gold that's pink, green, red or grey is happening.