INTERVIEW
ĎI can relate to mother rolesí
After re-establishing her footing in Hindi films, Rati Agnihotri is all set to debut in Bengali cinema. Shoma A. Chatterji in a tÍte-ŗ-tÍte with the veteran actor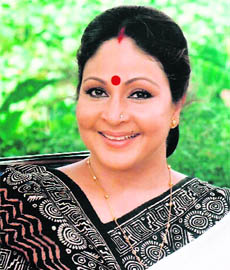 What drove you to Bengali cinema?
The reason is simple. It is not that I did not want to act in Bengali films when I was at the peak of my career. No one from Tollygunge ever approached me for a Bengali film. I would have jumped at the chance, had it come my way. My experience with Basu Chatterjee, Shakti Samanta, etc. had made me discover how talented Bengalis are. Bengali directors are sensitive, can touch their work with finesse and subtlety and have a fine sensibility.
Tell us about this film.
Veteran filmmaker Dulal De is directing the film. It is called Aaina-te meaning, ĎIn the Mirror.í Rituparna Sengupta introduced us. I was a bit hesitant to begin with because the language is new, the scenario is new, etc. But when Dulal-da showed me the script, Ritu had already given me an idea, I liked it very much. I took on this film as a challenge. I know it will be tough, but I love the challenge. I play Urmila Sanyal, a barristerís wife who is known for her determination to work on and find justice for, the right causes. She runs an NGO and goes all out to solve problems of women. Itís a very strong character, something I havenít played in a long time. It is about the bonding that grows between Urmila and Malini, a young photojournalist played by Rituparna. The story is about how Malini meets Urmila and the two bond instantly. The pairing seemed just right for the film.
How close is Urmila Sanyal to Rati Agnihotri?
She is my mirror image. Like me, Urmila is neither completely white nor completely black. She has ample shades of grey. Like Urmila, I too am involved in social issues. And like her, I am very determined. Urmila meets Malini (Rituparna) in an ashram, and things take a turn from there. The best part about Urmila is that after a long struggle fighting obstacles, there is a dramatic rise and growth in the character. I have to identify with my screen characters. I think itís important for every actor. Maybe a small little glimpse, as that helps make the character seem flesh-and-blood. But that is all I am allowed to say at this point.
But how did you manage your Bengali dialogues?
I am known for being thorough in my homework before I come to the sets and listen to the directorís commands. I have decided to try my best to do my own dubbing. So, I have hired a private tutor to coach me in Bangla and if my director is satisfied, it will be my original voice delivering my lines in the film. Acting is as much vocal as it is expressional. Why should I allow someone else to take away 50 per cent of my acting? My co-actors, especially Rituparna, have been extremely helpful. Rituparna is extremely versatile. I sat with my director for discussions each time before shooting. I even have a tutor on the sets to help me with my accent and my pronunciation. I have so far done films in 10 languages and am happy doing a Bengali film. I love the language, anyway. I canít speak the language but I can understand when someone speaks it slowly. I like Bengali music too and I love fish.
Which has been the most challenging role?
The role I found most difficult to play was that of a prostitute in Tawaif opposite Rishi Kapoor. I had to change my entire body language for the film. I could neither identify with the character nor could I get close to it. It was difficult to get the walk, talk or mannerism right because she was so far removed from what I am and from where I belong. I had to smoke a hookah and chew paan ó two things that were anathema to me. That is why I still find it the most challenging. I have switched over to mother roles now and have taken it in my stride. I like them because I can relate to them as a mother myself. I have just finished Luck, where I play mother to Aamir Khanís nephew Imran, and Chal Chale where again I am a mother to a child who commits suicide as he is unable to handle academic pressures. ó TWF