Faith Call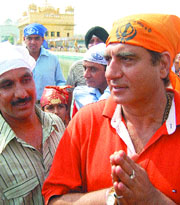 Film star Raj Babbar pays obeisance at the Golden
Temple on Tuesday. —
Photo by Vishal Kumar

Marked Effect
CBSE gradation - Schools' style
Amritsar, June 17
The competition among educational institutions to claim top positions in the different CBSE examinations has generated an intense debate among parents, teachers and management of schools.
Go slow on paddy sowing, states urged
Amritsar, June 17
Haryana and West Punjab (Pakistan) should join hands with Punjab in the delay sowing of paddy to conserve water and environment.
Lopsided economic growth bothers expert
Amritsar, June 17
A three-week refresher course took off at the
Academic Staff College of Guru Nanak Dev University here on Tuesday.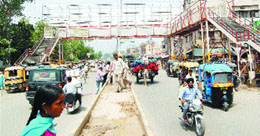 Ready overbridge awaits
VIP unveiling
Amritsar, June 17
Thousands of railway passengers are facing problem due to the non-functioning of the overbridge constructed outside the local railway station.

Rail passengers bear the maximum brunt.

NSD's spl workshop begins on June 20
Amritsar, June 17
A 40-day long musical theatre workshop would be organised by Dastak, an NGO, in collaboration with National School of Drama, New Delhi, Police DAV Public School, Punjab Naatshala and Amandeep Hospital here.
Infosys picks up 78 DAVC students
Amritsar, June 17
As many as 78 students of DAV College here have found placement in leading information technology company Infosys during the recently-held campus interviews.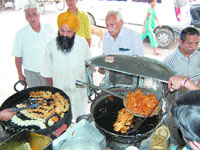 Dining Den
Twists and turns: So sweet
Amritsar, June 17
Jalebi for its sweetness is truly the spirit and essence of the holy city and sweetness is quintessentially a trait of all Punjabis.


Gurdaas Ram Jalebian Wala at Ahuluwalia Katra in
Amritsar has been selling jalebis for the last 50 years.
— A Tribune photograph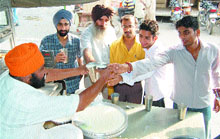 Gyan's lassi - The wholesome drink
Amritsar, June 17
The city crowd loves to splurge money on foreign substitutes of Indian food. The que to the Mc Ds and pizza huts certainly gives the "desi" food outlets a run for their money.


Gyan Singh's lassi at Regent Talkies Chowk is a big hit among the city crowd. — Photo by Vishal Kumar

OBC plans fresh loans for farmers
Amritsar, June 17
The Oriental Bank of Commerce (OBC) would provide fresh loans to all eligible borrowers on the completion of the task of waiver/relief by June 25.
Helping rural women hone painting skills
Amritsar, June 17
An advanced fabric painting skills upgradation programme was organised by the Krishi Vigyan Kendra, Amritsar, at Jodhpur village, near Tarn Taran, for members of a self-help group.
Campus Buzz
BBK DAV introduces new course
Amritsar, June 17
The BBK DAV College for Women is introducing B.Sc (biotechnology) from the academic session 2008-09.