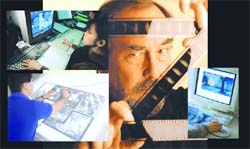 Visualise the vistas
A visualiser's job is to give pictorial representation to an idea or concept so that it can be communicated to the public, writes Sangita Sharma Phukan
Visualisation is the art of visualising an idea or a concept to convey a message in relation to a product or service. This is generally done by means of creative software tools. A visualiser needs to plan the designs from the conceptual stage to
finalisation.

Career Hotline
Pervin Malhotra
Cabin crew coaching
Q. Although I'm from a small town in Punjab, I have studied in an English medium boarding school. Is it still necessary for me to join an airhostess training academy if I want to join this line?
— Jasbeer Chaddha
Careercature
Sandeep Joshi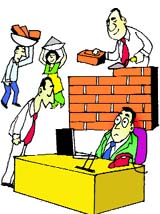 Sir, we are just following
your orders to continue
constructive work.

Cap on immigration to US may increase outsourcing
Sridhar Krishnaswami
The cap on skilled immigrants moving to the USA could force domestic companies to outsource research and development works to foreign countries, leading to a cut in employment and investment at home, a top American think-tank has warned. "The inflow of foreign students, scientists and engineers has been a key factor that has enabled the US science and engineering workforce to grow faster than the USA is graduating native-born scientists and engineers," according to a report by the Rand Corporation.
Bits & bytes
Frameboxx Animation & Visual Effects get accreditation
The animation and visual effects programme offered by Frameboxx Animation and Visual Effects has received accreditation from the world's prestigious Anglia Ruskin University and its Cambridge School of Art. Under the tie-up, the Redboxx 2 course offered by Frameboxx Animation & Visual Effects across its 40 state-of-the-art academic facilities in the country, has been accredited and awarded 120 undergraduate credits by Anglia Ruskin University.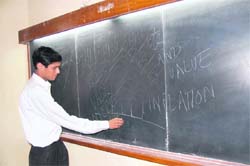 Private sector in education
S.C. Dhall
The entry of the private sector into education, especially professional institutions, will make way for reforms in higher education. The teaching standard will improve owing to the alluring pay packages, infrastructure and other facilities provided by the private sector. Research wings will certainly get due importance. The public and private sector partnership will be lucrative for the students as well as the faculty members.

Smart Skills
Usha Albuquerque
Gem Packed
Fashion is all over the place — in newspapers, in the streets, in the malls, and staring at you from the TV screens all day! This manifold growth in fashion awareness has brought with it a phenomenal demand for fashion products across the board, particularly jewellery, where the sparkle only seems to get brighter.