College Collage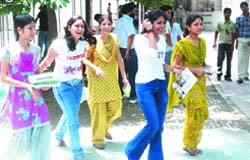 With the admission process on, various city colleges are bustling with activity. Tribune photo: Pawan Sharma
Queen honours 'king of bhangra'
Jalandhar, June 17
Known as the unofficial "king of bhangra", Malkit Singh is the first Punjabi singer who was recently honoured with the most excellent order of the British empire (MBE). Malkit Singh says that the influence of Indian music over the people in the West has increased after he was awarded the MBE by Queen Elizabeth. "It's a big achievement for me. When it was announced that I was being awarded the 'Member of the British Empire' for my contribution to Punjabi music, the word 'Punjabi' created a sensation in me.
Dining Den
Born on Feb 14, Valentino spreads gastro joy
Jalandhar, June 17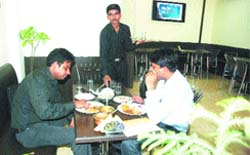 For a large number of youngsters who do the rounds of the eating joints of the city, Valentino is a mandatory stopover. Bustling with life, the place offers a wide variety of cuisines to choose from. Right from Chinese to Indian, Mexican or fast food, a wide array of menus is available on ones palette.


Valentino - The Restaurant is a foodie's haven. — A Tribune photograph



City student is abacus champ
Jalandhar, June 17
Hundred sums of addition and subtraction without paper and pen in five minutes and all correct. That is the feat that Shivangi Chopra, a class VII student of St Joseph's Convent School, achieved in a national abacus championship held at Chennai on June 7. The result was declared the next day and the young mathematics wizard was declared champion of the S champions. More than 4,000 students from across the country are learnt to have participated in the championship.


Shivangi Chopra
Young World
Stress-busting treat for teachers

Jalandhar, June 17
More than 100 teachers attended a stress management workshop during an in-service training course that is being organised at KV-1, Jalandhar cantonment.


Teachers attend a stress management workshop at KV-1 in Jalandhar cantonment. — A Tribune photograph
Glam flats are back with a bang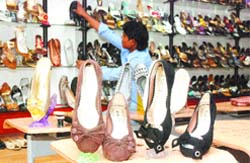 Jalandhar, June 17
Life of a girl is full of choices, especially when it comes to fashion and trends where the options are endless. Whether it is wardrobe or footwear, fashion for girls has no limit. The fashion gurus have come up with exclusive designer footwear for women called "Bellerina".

Bellerina footwear on display at a showroom in Model Town, Jalandhar. Tribune photo: Pawan Sharma



Faith Food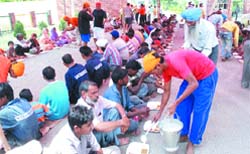 Devotees partake of langar organised to mark the martyrdom day of Guru Arjan Dev in Jalandhar on Tuesday. Tribune Photo: Pawan Sharma
Twin fires cause major loss
Jalandhar, June 17
Two commercial buildings in city caught fire on Tuesday. A minor
Manjeet elected block samiti chief
Jalandhar, June 17
The SAD-BJP combine today unanimously elected Manjeet Kaur as chairperson and Baljeet Kaur as vice-chairperson of the Jalandhar (East) block samiti. A meeting in this regarsd was held at the DC's office. In an unopposed election, Manjeet Kaur of SAD from zone 13, Sansarpur village, was elected chairperson and Baljeet Kaur of BJP and resident of Patara zone, Bolina village, was elected vice-chairperson.