High prices of paper hit box-making units
Jalandhar, June 19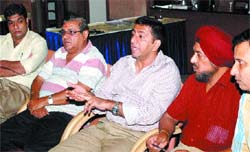 Facing the heat of an unprecedented hike in the paper prices in the recent past, over 200 box manufacturing units have decided to go on a two-day strike from June 23. The decision was taken by the Box Manufacturing Association of Punjab at a well-attended meeting chaired by president Manish Arora here today.
Members of the Box Manufacturing Association of Punjab at a press conference in Jalandhar on Thursday. Tribune photo: Pawna Sharma

Melancholy Manav 'electrifies' poetry
Jalandhar, June 19
"Gair hazir hoke vi hazir hai tu,
mai tan hazir hoke vi hazir nahin".
Melancholy came naturally to him. His sense of spreading the myriad shades of life onto the canvas of poetry makes him a unique person. Always ready to delve into the hidden aspects of an issue, this man truly deserves kudos for his attempt at ghazals and poetry.
Young World
Summer camp concludes at DIPS
Jalandhar, June 19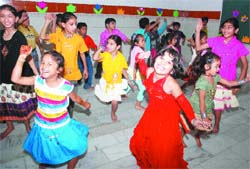 A summer camp was organised at DIPS, Maqsudan, in which the children participated in various activities. The kids were trained in dance, indoor games, painting, art and craft, tailoring, cooking and music. Classes were held for personality development also. The camp concluded with an exhibition of articles made by students.

Students of DIPS perform a dance on the concluding day of a summer workshop in Jalandhar. Tribune photo: Pawna Sharma
Pension Plan
LIC launches Market Plus-I
Jalandhar, June 19
The Life Insurance Corporation (LIC) has launched Market Plus-I, a unit-linked deferred pension plan, which will give the benefit of the stock market with future security.
Labour laws on paper only: Trade unions
Jalandhar, June 19
Contrary to its claims the Punjab government has failed to provide the minimum wages to the labourers, besides implementing the labour law since long. Moreover, the labour laws are being violated by the authorities with impunity.
'Bangladeshi' girl released from city jail
Jalandhar, June 19
A minor "Bangladeshi" girl has been released from the local Central Jail after the completion of her nine-month imprisonment on Friday. Seventeen-year-old Durgi Munde was caught in a theft case last year.
Man beaten to death after minor scuffle
Jalandhar, June 19
Kamaljeet Singh of Sofi village falling under Sadar police station was allegedly beaten to death by his neighbour after a minor scuffle here on Tuesday night.
YC celebrates Rahul's birthday
Jalandhar, June 19
Activists of the Youth Congress (YC) celebrated the 38th birthday of Rahul Gandhi by donating Rs 11,000 to Sahara Muskan School for special children at Arjanwal village, near here, today.
New Punjabi TV channel from June 23
Jalandhar, June 19
Another Punjabi channel, Just TV Punjabi, will be launched on June 23. According to managing director and CEO Manish Vasisht, Just TV Punjabi channel is truly rooted to the soil with every programme created locally.
Letters
Poor drainage of rainwater