Afghan female singer hates forcible wearing of 'burqa'
Amritsar, June 20
London-based Afghan female singer Ariana Sayeed, who was here for the shooting of the first Indo-Afghan music album, said she hated forcible wearing of the "burqa" and the "hijb".
SAD murdering democracy: Cong
Amritsar, June 20
SAD president Sukhbir Singh Badal and information minister Bikram Singh Majithia are responsible for the criminalisation of politics in this border region.
DD serial on Maharaja Ranjit Singh from August: Raj Babbar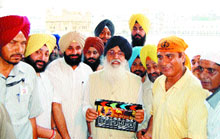 Amritsar, June 20
Versatile film-maker and actor Raj Babbar would soon launch a special serial on the life and history of Maharaja Ranjit Singh on Doordarshan from August this year.

Chief Minister Parkash Singh Badal inaugurates the shooting of a serial on legendary Sikh ruler Maharaja Ranjit Singh in the Golden Temple complex in Amritsar. — Photo by Vishal Kumar

Fake currency racket busted, 5 arrested
Amritsar, June 20
The Sadar and Sultanwind police on Friday claimed to have busted two rackets of fake currency in separate incidents and seized fake currency amounting to Rs 50,000 from them.
Gang of robbers busted, 5 held
Amritsar, June 20
The district police busted a gang of robbers arresting five members, Veer Singh, alias Veeru, Pawan Kumar, alias Bau, Daljit Singh, alias Jitam, all residents of Anngarh, Harmeet Singh, alias Sonu, of Roriwala and Harbhajan Singh of Sanghna.
Rain brings mercury, power supply down

Amritsar, June 20
Monsoon clouds hovered over the city which witnessed a heavy rainfall, proving the almanac wrong due to pre-monsoon rain, bringing respite
from heat.


Rainwater accumulates in the Kotwali area after a downpour in Amritsar on Friday. — Photo by Vishal Kumar

Land mafia out to 'grab temple property'
Amritsar, June 20
The Lala Devi Sahai Khanna Family Dharamarth Trust has alleged that some land mafia was trying to grab the land and properties of the 150-year-old temple and has tried to demolish a structure, including a shed.
Minor girl abducted
Amritsar, June 20
The Amritsar (rural) police has booked Virsa Singh of Chuchakwal village for allegedly luring and abducting a minor girl of same village.
Dining Den
Punjab on palate, its party time for desis and videshis
Amritsar, June 20
"The Brothers", adjoining "Bhrawan da Dhaba", is the advent of a new age of dhabas. As compared to 100-year-old "Barawan da Dhaba", it is based on the innovative concept of multiplicity of meals.
Bank robbery: Police claims to have vital clues
Amritsar, June 20
The district police has finally closed down to crack the sensational Rs 37-lakh bank heist case which has created a scare in the banking industry in the border region, besides getting a flak from the public, for its inability to nab the culprits for almost three weeks.
SAI plans centre for hockey at Spring Dale school
Amritsar, June 20
The Sports Authority of India (SAI) has decided to adopt hockey players of the local Spring Dale Senior School and set up a centre to promote hockey at school level.