Changing facade of rural Punjab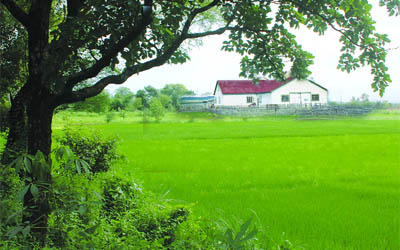 Houses are no longer plain in the rural areas of Punjab. They are fast getting replaced by attractively constructed homes donning well-crafted interiors and exteriors that not only look good but are Vaastu and Feng Shui compliant.

The maximum demand for interior designing, Vaastu and Feng Shui professionals is coming from villages around Nawanshahr, Jalandhar and Phagwara. "These places have a high number of NRIs who are quite conscious of these things. Of late, demand has also started generating from new customer segments like farmers," said Sunil Chadha, a Feng Shui expert in Ludhiana.

Realty sector set to clock 30 pc growth in 10 yrs: Assocham
The realty sector is projected to grow at the rate of 30 per cent annually over the next decade, attracting foreign investments worth $ 30 billion, with a number of IT parks and residential townships being constructed across India, industry body Assocham has said.
Tax tips
Will and share in property
Q. My father owned a residential property which was self acquired by him. He died a few ago back without making a will. My sister, now a divorcee, is living with us, with her minor son. Now my mother wants to disown me from this property due to some differences between her and my wife. Can she do that? Please tell if the law can protect my share in this immovable property? Who all are the real share holders against this property?
Property registration
Executing memorandum of family partition
Gifting money from sold house
GREEN HOUSE
Statues in garden
The making of a garden is never complete. A gardener is never satisfied with his quest for excellence. This gives a garden dynamism. First, it is lawn then hedges, shrubs, climbers, annuals, perennials, concrete, water features, fountains, paths and above all statues and artifacts. They add special dimension to a garden.
DLF, Unitech defer Singapore IPOs
Await better market conditions
Country's top two real estate firms DLF and Unitech have deferred their plan to launch initial public offers of their office trust to raise over $ 2.5 billion in Singapore and are looking for market conditions to improve.
Developers feel liquidity crunch
Developers in real estate have started the feeling of liquidity crunch as sources of funds are drying up. This is due to high interest rates by banks and financial institutions and high cost of construction, with the rise in steel and cement prices.
Go in for trendy stairs
You can't imagine a palace or a Bollywood movie without stylish stairs. Trendy stairs seduce one to take the upward journey. For the series of steps that can provide access to your sweet room ahead, mull over the location and types of stairway.
Man group plans Rs 1,000 cr investment in Mumbai
Marking its re-entry into the realty space, leading pipes manufacturer Man Industries (India) has announced a Rs 1,000-crore investment in real estate projects spread over the next three years.