Youngsters no longer have to struggle for that one chance. Thanks to reality shows, fame & stardom is just a song away!
Instant Fame
Ishmeet & Harshit are busy chasing their dreams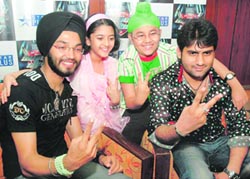 It's not like that anymore. Eloping from ek chotya sa gaon with 500 bucks, getting to Mumbai railways station and then spending the next few nights there. Walking miles to meet directors, producers with a desi sa portfolio or a self recorded tape, getting shooed away and, finally getting picked up by a big shot director, standing next to you at a pau bhaji stall. Ticket to Bollywood was a mehnat wala kaam until lately, when every second ladka aur ladki from a kasba started to get an easy ticket to fame and glamour, through the reality shows. Struggle in Bollywood will never be the same.

We rock!
The peppy Shreya & Milanjeet are gung-ho over SRK
On the road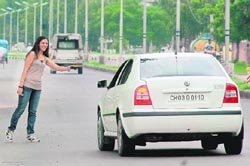 Want to save money, make new friends or do your bit for the environment? Go hitch-hiking, but do exercise caution
IT is the cheapest way of travelling. And if you have little or no money for public transit, or if there is a lack of transportation, well, then hitch-hiking maybe the only way to get where you need to. Interested in making rah-chaltey friends, then again you can depend on hitch-hiking. Who knows you might even end up finding a date here!
Wrath, Wrath go away
Healthy marriage is directly proportional to the kind of arguments couples have. So, argue, if it crops up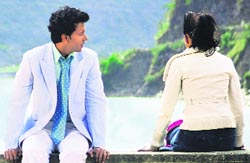 IF a marriage is the alliance of two souls, then argument is the spice that keeps matrimony going till they become spiteful and unbearable! According to recent studies, the health of a marriage is crucial in determining the spouse's health. Fights -- and the way they are fought -- can make a huge difference to the quality of life. Wait, we are not advocating pouncing on your partner at the first opportunity that comes your way, but please do not act like a dumb spectator. The idea is to vent your emotions: Say your thing and also lend a good ear to your partner.


BIG PICTURE




can you spot the real onE?
An Iguana perches itself on the model of a dinosaur, much to the delight of the lensman. —Reuters
In a jiffy
Work better, ignore politely, save time, beat stress. How? Simply ping on!
YOU don't really like a client, but he is important for your deal. The pretty face at the workstation bugs you, yet you have to 'spew' sweet words for normal functioning. Replying to endless number of e-mails each day is giving you e-stress. The ever- ringing mobile is 'the' gift of technology you love to hate. Not to forget that your life is a close race against time. Now, what if a click could take care of all your work woes and more…? Welcome to the world of instant messaging service that promises productivity, communication, relief and more, all in a jiffy!
Master of Spices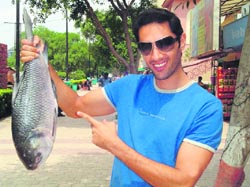 HE fondly remembers his early modeling days with the likes of Annie Thomas, Diwakar Pundir and more. And doesn't mind sharing with us that the flicks he acted in, years ago, are yet to hit the screen. He even appears comfy being introduced as Rohit Bal's nephew. Model, actor, chef, and now anchor for Chakh Le India! on NDTV Good Times, Aditya Bal, lets us quiz him till we utter the word 'food' for from there on, he takes over.



I'M LOVING IT: Aditya Bal is happiest in the kitchen

First day first show
Surely, a forgettable week


De Taali
Avoidable
Avoidable EXPERT cooks (read directors) are away. Their understudies are having a whale of a time. They prepare their dishes with the savoir-faire of their illustrious seniors. While one of them wants us to savour his recipe and De Taali, the other wants us to feel his product's Khushboo. lifestyletribune@gmail.com or Life Style, The Tribune, Sector 29-C, Chd
I am 26 and suffering from depression and only I know what I am going through. On the outside, I appear to be a happy go-lucky person and people identify me as the life of a party. I grew up in a home where my parents were always fighting. Ever since I was four, I knew they would separate. I lived in paranoid all my growing years and learnt to find comfort in food. Now, whenever I go on diet and lose weight I swing back to food binges soon. How do I help myself?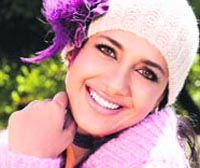 Little Interview
Punjab di Khushboo
SHE may call herself a tomboy, but the buzz is that she is the next hot Bollywood sensation. A chatterbox, she spends most of her time watching good classics. As for her mantra in life, she believes in going slow. Model turned actress Avantikka is making her debut with Pahlaj Nihalani's Khushboo. A trained Bharatnatyam dancer, she shared her excitement over her entry into the tinsel town. Did you always want to act?