M A I N N E W S
Tragedy in Philippines
845 missing as ferry capsizes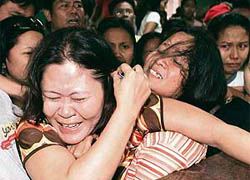 TOUGH TIMES: A relative of a ferry passenger cries as she awaits the latest news inside the office of Sulpicio Lines in Cebu city, central Philippines, on Sunday. — Reuters
Cebu, June 22
Around 845 people were missing on Sunday after a ferry in Philippines — MV Princess of Stars — capsized in a typhoon that has killed scores and left a trail of destruction. Princess of Stars sank three kilometres off the Sibuyan Island in the centre of the archipelago.
Only four persons are so far known to have survived the ferry disaster and they said many did not make it off the ship in time. Crowded life rafts sank in the cold, storm-tossed seas. "Many of us jumped, the waves were so huge and the rains were heavy," a survivor identified as Jesse told the local radio. "There was just one announcement over the megaphone, about 30 minutes before the ship tilted to its side. Immediately after I jumped, the ship tilted and the older people were left on it." Four people have been confirmed dead. Children's slippers and life jackets have washed ashore. There were 724 passengers and 121 crew on board, including at least 20 children and 33 infants.
In the central city of Cebu, where the Princess of Stars was meant to dock, dozens of relatives maintained a vigil at a small passenger terminal, waiting for news.
"The last time I heard from my son was on Friday evening when the ship left Manila. He messaged to say he was coming home," said Celecia Tudtud, a mother of four. "I really hope he's ok," she added, wiping away tears.
A spokesman for the President Gloria Macapagal Arroyo, who flew to the United States on Saturday night, said she would not cut short her eight-day state visit, which includes meeting US President George W. Bush in the White House on Tuesday.
A coastguard vessel is trawling the waters around the 23,824 gross tonne ferry, which is lying upside down with only its bow above the waves, trying to confirm reports that some passengers had made it to a small island. "We are hoping more people will have reached the shoreline," Vice Admiral Wilfredo Tamayo, the head of the coastguard said.
Princess of Stars ran aground on Saturday but the coastguard was unable to reach it because of huge swells and bad weather caused by Typhoon Fengshen, which crashed into the central Philippines on Friday.
Tamayo said he hoped divers would be able to scour the submerged ship later on Monday. He said there was no sign that fuel was leaking from the ferry but said an oil-spill response team would arrive with one of the two coastguard ships before dawn on Monday. — Reuters

Typhoon claims 229 lives
Iloilo (Philippines), June 22
At least 229 persons are confirmed dead and at least six missing after Typhoon Fengshen ravaged the central and southern Philippines, Red Cross and civil defence officials said today.
The toll does not include those dead or missing from a ferry that sank in the central Philippines. The central province of Iloilo has suffered the heaviest losses after being hit by the typhoon yesterday, with 101 dead, Philippine Red Cross chairman Richard Gordon said.
Other fatalities were recorded in the neighbouring provinces of Romblon, Cotabato, Antique and Capiz, Gordon added.
The civil defence office recorded 26 fatalities in the southern island of Mindanao. Floodwaters in Iloilo rose so swiftly that many residents were forced to take refuge on rooftops or in the branches of tall trees.
Over 35,500 families had to be evacuated from their homes due to the flooding and risk of landslides, the civil defence office said. — AFP