New look for Bard's tomb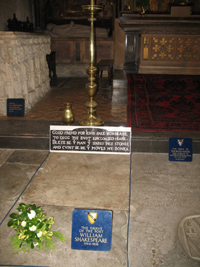 The deteriorating gravesite of William Shakespeare is set for a makeover despite bearing a curse against those who move it. The tombstone is being restored as part of extensive repairs at Holy Trinity Church in Stratford-on-Avon, Warwickshire.
The writer was baptised at Holy Trinity on April 26, 1564 and buried there on April 25, 1616.
He is thought to have penned the warning words inscribed on the tombstone, which read: "Blessed be the man that spares these stones/ And cursed be he who moves my bones." The Bard's words have warned off the curious for almost four centuries.
Ian Stainburn, of Stainburn Taylor architects and historic buildings consultants, who is carrying out the work, said the bones would not be disturbed. "We're avoiding the curse," BBC quoted him as saying. Stainburn said the firm from Ledbury, Herefordshire, was only working to repair and conserve the stones. "Over the years, the 400 years, they've started to laminate, the surfaces are coming off, and with people walking over them, clergy during the communion services and so on, the surfaces are getting eroded," he said.
The Rev Martin Gorick, the vicar of the church, which dates back to 1210, said he was also confident that the restoration work would not incur the wrath of Shakespeare.
"We are actually conserving the gravestone, so it should be a blessing rather than a curse."
— ANI