Bedtime ruminations
Aradhika Sharma
Goodnight and God Bless
by Anita Nair. Penguin Viking. Rs. 399. Pages 284.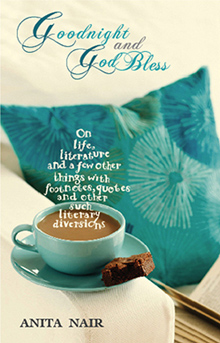 WELL, the cover is rather attractive. Soothing, depicting a pretty green cushion as a backdrop for a cuppa chai and a brownie. Comforting, you know. It sets the tone for the book quite well, actually. The book itself is a collection of essays, which tackle a whole lot of subjects. In fact, the subjects are ruminations by Nair, supposedly at bedtime and thus the title, Goodnight and God Bless. And this is probably why the thoughts are so sweet and maybe a little boring at times.
Itís a book to sleep by. For example, her reflections of childhood are associated with "vanilla and the sweetness of old books, crushed grass and dog fur, the poignancy of mango blossom and teenage fumbling in the sultry afternoon heat, marjoram and wedding garlands, caramel cream serenity that rides on a whiff of pipe tobacco". No memories of bruised knees, unfulfilled desires, or a heart broken again and again. Ideal bedtime cogitations that calm and soothe!
Nairís musings include "books, writers, book events, mice, mothers, airport hotels, the wind and other such unexpectedly thought-provoking subjects". These are intertwined with personal anecdotes of Nair and her friends and family. Nairís literary career spans a decade, and this book draws on her experiences of her roles of being a woman, mother, daughter, wife, ad agency employee and author.
Though the book is a collection of bedtime ruminations, it was in fact written in the three months when Nair was immobile with slip disc last year. "It was a time when I was looking more inwards than outwards," she says. The world within Nair seems to be a sweet, placid one. Her mind doesnít churn up her stomach with uncomfortable feelings, no great passions, just gentle thoughts that would lull her and the reader into a comfortable snooze with the book resting on his sleeping stomach. When he does wake up to get more comfy, he would probably put the book away and turn the light off rather than try and look for the exciting place that he may have left the book at when you fell asleep. Because, really, there is no such greatly exciting place. In short, itís certainly not an unputdownable book.
Nair says, "I think the bookís tone and life force emerged from being unable to do anything else but this. I needed to amuse myself ... ." One wishes that she may have thought it fit to amuse the readers more too, especially after setting such a high standard for herself. (The Better Man, Ladies Coupť, Malabar Mind) .
The book has a whole lot of with droll quotes and footnotes, some of which are as long as half a page. In fact, these are pleasant diversions, when you decide to go along with the flow of the book and enter Nairís charmed world. There arenít any major philosophies coming your way but there are some nuggets of living that do make sense.
The section on mothers and daughters for example, would find an echo in most women. "A daughterís struggle with her mother is what shapes her journey through childhood and makes her a woman. But what kind of a woman is the moot question."
A charming feature of the book is the little casual sketches that suddenly pop up at the reader. Very childlike and well, to use the word again, sweet! Sketches of a dog, a snail, a table and chair, add to the sense of comfort.
Readers in the habit of getting a glass of warm milk before bedtime could easily replace their milky drink with Goodnight and God Bless.