Breaking free
Priyanka Singh
Freedom's Ransom
by Prafulla Roy.
Translated from Bengali by John W. Hood.
Roli. Pages 313. Rs 295.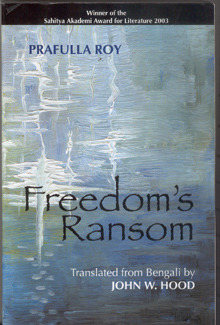 This period novel is a throwback to the era where bonded labour was a reality for many generations of underclass landless labourers for whom thraldom was a way of life; a servility that ran in their lineage.
Roy, winner of the Sahitya Akademi Award for Literature, 2003, infuses in his characters a quiet strength that shows up in subtle ways and in the most unlikely of situations.
Dharma is a young untouchable who scrapes out an existence by toiling on the hard, cracked earth of Raghunath Singh, a powerful zamindar with political ambitions. Dharma yearns for a life of freedom. He saves every penny to pay back his debt of Rs 2,000 that would have his back to the dreary existence of bondage.
Hood comments that the depiction of labour is a significant feature of the novel as it is yet another persuasive condemnation of persistent, "pre-modern backwardness and the perpetuation of feudalism".
Raghunath Singh is a self-serving man who wants to be an MLA at any cost, even if it means being temporarily kind to the lowly for their votes.
His small act of distributing laddoos to the untouchables with his own hands endears him to them. At the same time, he burns down some villages and offers the inhabitants compensation. His charade of generosity is complete.
The poor labourers, mere pawns in the hands of the landlord, can't see through his devious game and almost believe that their 'maalik' is all out to improve their lot.
In the meantime, in his desperation to break free, Dharma takes all kinds of risks, including catching cheetah cubs for an Englishman, to make some money. After years of drudgery, he succeeds in saving Rs 2,000, only to be told by the wicked munshi that he had heard wrong and the debt amount was actually Rs 5,000.
Something within the compliant Dharma snaps. Raghunath's victory procession at the colony of the dosads (untouchables) is a witness to the "stirred up heart of a bonded labourer".
Just as the manipulative MLA thanks them, Dharma finds his voice to speak up against their feudal lord—"Lies! Lies! Lies! You are not our man! You are not our man!" With those words, the soul of one man was liberated and seeds of hope sown for a better future.