FASHION
Soft shades for summer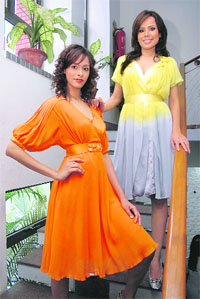 Summer fashion is all about playfulness and subdued elegance.
Gone are the days when summer fashion meant going for pale light shades or just whites. Yes, whites are still very much in but onset of summer also does not mean wearing the pale look. Freshness is more the mantra in the fashion scene now. Says fashion designer Agnimitra Paul of Kolkata: "Soft colours go well with the season, which is feminine and elegant."
In fact summer presents a welcome challenge for the designers who want their creations to be wearable. Summer fashion this time is all about youthful playfulness and subdued elegance. The colours that are in fashion this year are refreshing and vibrant, feels Shradha Murarka, proprietor, Vizyon, a store in Kolkata, which houses apparels from many acclaimed international fashion designers. The Vizyon Summer 08 collection comprises summer jackets in transparent panels, sheer flowing dresses, draped jerseys and day dresses in Lurex coated and printed linens. "The colours in focus this time are ultra feminine—floral whites, lilacs, juicy oranges, candy yellows and pinks and the look is essentially fresh as well as feminine," she adds.
Monochrome schemes figure in the latest fashion, too, like black and white. Abstract tribal earth prints as well as exotic and floral prints are happening. "Whatever you wear, make sure that you don't look stern and corporate. Wear slim narrow dresses but make sure that they are in pastel shades and have floral prints. In short, you should recreate very much a girlie look," says Bangalore-based upcoming designer Bhavna Sethi, who recently held an exhibition in Kolkata.
Comfort is the keyword for fashion, believes Kolkata-based designer Kiran Uttam Ghosh. Her signature style for this summer is a classic, deconstructed and an airy line. Cool knits, voiles, linens, chiffons and georgettes are her favoured fabrics. "The look needs to be kept light. Too much sequin, texture or embroidery will make you look tired and worn out," she says.
Agrees Agnimitra Paul: "The trick in summer is to look subdued yet elegant. Cottons are a must and this season I am using a lot of dhakai and ikkat on western fabrics. These are cool summer fabrics which are
high on comfort." This season the designer has used dhakai weaves on chiffon as well as on satin to get a sensuous look.
No outfit is complete without the right accessories. A must-have accessory this season is the clutch bag. For an evening formal party-wear, carrying a clutch bag is the in-thing now. However, if you are keen to carry a larger bag, especially while travelling, make sure that you go for a bag which is shaped as a pyramid triangular dome or has the balloon style.
Finally, what about the make-up or the hairstyle? "After all, no dressing up can be complete until you have done the right make-up or done the correct haircut. These are the two factors which can make or mar your face," says beautician Rita Mohan Toshniwal, who owns a chain of parlours in Kolkata. This season straight cut is out for sure, and the curly, messy look is in. Go for shoulder length hair, which can be tied up. "The hair colour of the season is dark brown, a colour ideally suited for the Indian skin, though globally used as well," Rita adds.
Make-up should be subtle. Focus this time is on eyes. "Do not accentuate both lips and eyes. Go for dark eyes this summer and pay special attention to the lashes," Mumbai based make-up artist Vinita Jain says.
— TWF