food talk
Check out this chaat
Steamed sweetcorn with peas and bell pepper makes for a great health snack, writes
Pushpesh Pant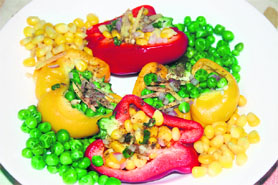 Nothing makes us drool more than chaat on the roadside. But we must confess in the same breath that we seldom muster up enough courage to yield to temptation. Since childhood, one was scared of germs breeding in those delicious mouthfuls — the only concession made was an alu tkki piping hot from the tawa disinfected by oil having a boiling temperature higher than water.
Now in ripe old age there are many other life-threatening hazards and we splurge shamelessly in the guise of treating grandchildren but so strong are childhood impressions that guilt persists. Whenever we get an opportunity we try to replicate the khomcha fare at home. Over the years we have had mixed success — our dahi bhalla are a fiasco but alu chaat is above par, so is dahi papri. Golgappa and pani puri remain beyond wildest dreams but to let you on to a secret we have managed to incorporate chaat flavours into many healthy wholesome recipes. The nature's bounty on shelves is more varied now and the quality of pre-packaged premium masala has greatly improved. It is possible to snack without the painful pangs of remorse. First showers of monsoon bring in their wake a different challenge — those who love crunchy salads are, with good reasons, a little squeamish about raw veggies. To tell you the truth, it was beloved daughter-in-law Shammi, a fitness freak, who dared us to fuse chaat with salad. The immediate provocation was the runaway success of a steamed sweet corn stall at Vasant Lok in the Capital. When we encountered the seasonal chchalliwala grilling corn on cob by the gutter what else could we mutter, but 'Here comes the makai matar chaat.'
Chef's special
Ingredients
Sweet bell pepper red (medium-sized) one
Sweet bell pepper yellow (medium-sized) one
Sweetcorn (fresh or frozen kernels) 100 gm
Green peas (shelled, fresh or frozen) 100 gm
Ginger (diced or cut in thin matchstick slices) 1 inch piece
Onion (medium-sized, chopped fine) one
Green chillies (chopped fine) two
Lime juice 1 tsp
A small pinch of dried mint leaves (crushed)
Chaat masala (preferably home made as per taste blending rock salt, sugar, roasted jeera and a small pinch of hing) 1 tsp
Method
Put the vegetables in a steamer and steam for about 15 minutes. Allow these to cool. Then, cut peppers in halves and remove the pith. Put the corn kernels and sweet green peas in different bowls, drizzle with lime juice, sprinkle with chaat masala and crushed mint leaves. Mix in chopped chillies and onions. Pack the red peppers with corn and yellow ones with peas. Garnish with ginger and enjoy.
Resist the temptation to drown everything in your favourite chutney — shont, pudina or sauce. The idea is to have two-in-one fun. Don't hand out the salad the step-motherly treatment. You and the guests should taste the bell peppers, corn and the peas. The chaat should just be remembered nostalgically, and have no fears, steaming is as good as boiling or deep frying to get rid of microbial inconveniences.