West has only junk culture — M.F.Husain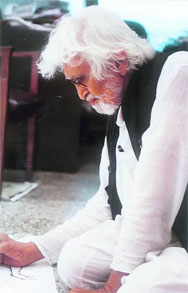 M. F. Husain is currently working on a project of 99 paintings on Arab culture.
Roped in for a massive project to create 99 paintings on Arab culture by Qatar's royal family, eminent painter M F Husain, in self-exile after drawing the ire of Hindu outfits for his works, insists that art is India's "soul" and has the depth that is lacked by the West which has only "junk culture" to offer.
In the last 60 years, India has emerged as a major force in many fields, including art, the 92-year-old artist said after inauguration of an exhibition in Omani capital Muscat recently
In India, art has a unique position. "It is our soul, a part of our culture that was suppressed under foreign domination. It was almost killed. There is a tremendous depth to Indian art that rises from its ancient civilisation.
"Maybe art in China has that depth but nobody in the West has it. What can you expect from the US whose history is just a few hundred years' old except junk culture," he said.
Unfortunately, in the present world, art is judged by its price tag, says Husain, whose painting titled Battle of Ganga and Jamuna: Mahabharata was sold for a whopping $ 1.6 million at Christie's, setting a world record for contemporary Indian art.
"But we in India have good art of great substance. We have sold on a par with Western artists and that is a great achievement," he told an Oman Daily in Dubai recently.
On the controversies sparked by his paintings back home, he said: "I am only concerned about the language of painting. I create the same spiritual feeling in my painting as, say, when you see a head of the Buddha. The feeling is there. The rest is public imagination."
Husain, who has been living in self-exile in Dubai, London and Qatar since 2006, fled after his paintings of Bharat Mata as well as of Hindu Gods angered right-wing groups like the VHP and the Bajrang Dal.
However, the Delhi High Court last month quashed criminal proceedings against him for allegedly hurting public sentiments through his "obscene" paintings.
Husain said he was unhappy when people chose to call him the Picasso of India.
"It is the ignorance of learned people," he said with a laugh. "Picasso was not just great, he was a giant. He liberated the art form. But I see Clave as the most important painter of the Western world. He has linked with the Upanishads and this has led to the rise of many scholars with Indian philosophy." The painter said there was an "outburst" of art in India after independence. But it will take time for more of it to reach the international platform, because art has not been publicised too much.
"When former premier Rajiv Gandhi started the Festivals of India, it opened up the eyes of the West to the wealth that we have. Art was not left behind. Since 1986, auction houses began coming to India," he told the Oman Daily.
Husain is currently working on a project of 99 paintings on Arab culture that will be displayed around the world.
"It is not just Islamic culture. Arab history dates back to much before that. The Sheikh of Qatar is sponsoring the painting for Qatar."
A devoted fan of Bollywood actress Madhuri Dixit, Husain says he made only a few films because "making cinema is so expensive".
Husain has made three films: Through the Eyes of a Painter in 1967 which won a Golden Bear at the Berlin Film Festival; and in the 1990s, Gajagamini with actress Madhuri Dixit and Meenaxi: Tale of Three Cities with Tabu.
"I dreamed of making a film when I was 15 years old. Then I waited 60 years till Madhuri was born, and it took another 25 years to make a film," he says.
"I see Madhuri as the essence of Indian womanhood. My paintings were incomplete until I made Gajagamini. With Gajagamini, my paintings became complete," he said. — PTI