A trek to Bijli Mahadev
K.C. Prashar



The Bijli Mahadev temple is located on a hilltop near Kullu. The shrine owes its name to the periodic bolts of lightning that strike here.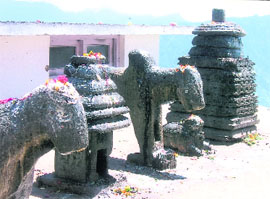 Stone idols of Nandi outside the temple. The shrine, built of wood and stone, is typical of hill architecture. Photo by the writer.

Situated at an altitude of 2,438 metres (8,000 ft), the Bijli Mahadev shrine is 10 km from Kullu across the Beas river. The temple is located opposite the township on top of a hillcrest.
From Chinsari village, a 12 km-uphill ascent to the Bijli Mahadev temple made us gain an altitude of about 2,500 ft. Three of us had commenced the climb on steep stone-steps from this village. As the path winded upward, we had a first-hand feel of a hill village with its houses of stone and wood with gabled slate-roofs, terraced cornfields and apple orchards.
After trudging up half a kilometre, we entered a cool deodar forest. The monsoon showers had turned the slopes lush green with luxuriant growth of grass and shrubs. After covering a distance of about 1.5 km, we emerged on the periphery of a turf-laden clearing that capped the mountain. From here we could have a partial view of our destination, which was a couple of wooden structures at the top. Another climb of about 200 ft and we reached the temple complex.
The shrine is indigenously built of wood and stone, a form of typical hill architecture with opposite sloping roofs made of wooden planks. Inside the sanctum is a 1.5-feet tall shivling. Outside the temple were two imposing stone-statues of Nandi, the bull, besides small shivlings and miniscule temples. One of the special features of the temple is a 60-ft-tall staff that stands a few feet away from the shrine. However, it looks humbled by three giant telecom towers around 200 ft away.
This pilgrimage site is well known for its unique natural phenomenon. It is said that periodically lightning strikes the temple during the rainy season, which splits the shivling into pieces. These pieces are put together by the temple priest and covered with butter. The image is restored to its original shape till another similar flash takes place. This uncommon phenomenon is viewed as Shiva taking the bolt of lightning on him to save his devotees from its destructive impact. It is for the periodic bolts of lightning (bijli) around the shrine, from which Shiva (Mahadev) saves his devotees, that this place is known as Bijli Mahadev.
Besides this unusual happening, what sets this shrine apart is its amazing geographical setting, situated as it is atop the head of a giant spur, providing a spectacular view of both Kullu and the Paravati valley. A sheer escarpment abruptly terminates the spur towards the south. About 5000 ft below is the confluence of Beas and Parvati rivers joining in from either side of the spur, besides the township of Bhuntar along with its airstrip, scattered villages and isolated houses on the slopes higher up.
The next stop was Mahuti Nag, a shrine dedicated to a serpent deity. It was seven-km-long stretch of thick deodar forest between Bijli Mahadev and Mahuti Nag. All along the stretch it was almost a level walk except for intermittent small swells and depressions. Occasionally we could see glimpses of both Beas and Parvati valleys .
As we walked on to the ridge, we stepped in another clearing. From there the slope rose sharply. After about a kilometre, we reached a small wooden structure.
The temple of Mahuti Nag is built of stone and wood, and is quite small, the enclosure hardly measuring 5 by 5 ft. A lone man-made structure in utter wilderness gave it a mysterious look. There were about a dozen goat horns, clustered near the front of the temple.
To our dismay, we found the door of the shrine chain-bolted from outside. But one of my companions somehow managed to open the window-sized door. There was nothing much to see inside. Only a couple of vermillion-smeared stone-idols and a bunch of iron tridents, leaning against a wall were inside the temple.
In the hill regions, abodes of Nag deities are associated with water features. This one was no exception. There was a water fountain on one side of the temple. This crystal-clear, cold water, fortified with herbs, is used by villagers around for its therapeutic values.
We adopted a different route for our return journey. A jungle trail, partly covered with undergrowth, winded down from the temple through a dense forest. After about 6 km, we came out of the forest into Bandal village. From there after another 2-kilometres walk, we were back at Chinsari village after completing a circuit of about 17 kilometres.