Ekta in a hurry to launch Mahabharat
The show will be aired in July instead of August. Srabanti Chakrabarti on the reasons behind
the haste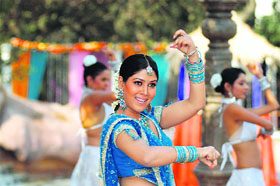 Sakshi Tanwar will enact the role of Ganga in Kahani Hamare Mahabharat Ki.
It seems Ekta Kapoor is in a rush to launch her version of the Mahabharata. Maybe the rumours that other production houses have serials lined up on the same epic can explain the advancement of her show's launch date by more than a month. Ekta's Kahani Hamare Mahabharat Ki will premiere on July 7 at 9 pm on 9X. The serial will be aired from Monday to Thursday.
Interestingly, even the Mahabharata has not escaped the K-obsession of the soap queen. Ekta has named it Kahani Hamare Mahabharat Ki. She, however, refuses to attribute this change to her obsession with the letter K. As she has said in a media brief, "I never thought of associating K with the Mahabharat but then the original title was registered with BR Chopra's production house. I was thus compelled to change the title. After our new title was finalised it was sent to Sunita Menon for checking its aura and vibes. Only after she validated it with a positive note, did I final it. I also took advise of Sanjay B. Jumani for the numerological aspect. By God's grace everything has turned out to be perfect. I think my biggest project so far was destined to start with K."
Ekta seems to be stressing a lot on the action scenes. She has roped in Amar Shetty (of Om Shanti Om fame) for directing the action scenes in the epic. And, as always, she managed an impressive star cast. There is Ronit Roy (Bheeshma), Chetan Hansraj (Bheem), Aryan Vaid (Duryodhan), Akashdeep Sehgal (Kans mama), Ram Kapur (Dhritarashtra), Sakshi Tanwar (Ganga) Kiran Karmakar (Shantanu), Rakshanda Khan (Amba) and Makarand Deshpande (Ved Vyas).