ulta pulta
Sailing cars
Jaspal Bhatti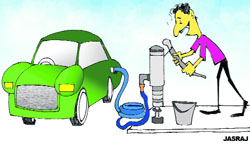 Honda Motors claims that they have begun production of a no-fumes car. It is not a big deal as most of the cars have already become zero-emission cars. Since the cars are parked permanently in the garages due to non-affordability of fuel, they emit no fumes. Though their owners do emit fumes, who fret over blocking money on stationary cars. They will only be cheerful when some company announces inventing a new kit, which will convert their car to a water-run machine.
Their happiness may not last long as there will be sudden shortage of water. Like Haryana, Punjab, Karnataka and Tamil Nadu, there would be more water disputes. The parents will be heard chiding their children "Who has drunk the carís share of water? Now walk to your school!"
Water bills will run in tens of thousands. Imagine a woman wailing to her neighbor "Behan ji ki dassan naukar ne nalka khulla chad ditta sadda lakhan da nuksaan ho gaya." (Sister, what shall I say? The servant left open the tap. Our loss ran to thousands)
Maybe someday a car company will develop a car with sails, which will run on wind pressure. All sailors would then become highly-paid drivers.