Independents spring a surprise in 3 towns
Tribune News Service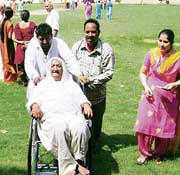 An elderly woman on a wheelchair on her way to a polling booth in Mandi Ahmedgarh. A Tribune photo
Ludhiana, June 30
The SAD-BJP alliance won the MC elections in six towns of the district. Independents sprung a major surprise in Ahmedgarh where they won 12 out of 15 seats, defeating Congress, SAD and BJP.
The elections remained largely peaceful with sporadic incident of violence and skirmishes. There were allegations of rigging but no election was cancelled.
A man was shot at in Samrala near PNB Bank but it had nothing to do with elections, the police said.
Mandi Gobindgarh: No political party got a majority with Independents winning seven seats out of the total 19. The SAD won five, BJP three and the Congress four.
The prominent winners are: Harmeet Kaur Bhambri won in Ward No. 7, PPCC cashier Joginder Paul Singla in Ward No. 17, Sukhwinder Singh Bhambri and his wife Kamaljit Kaur of the SAD won in Ward Nos. 11 and 13, respectively, Morcha Dharam Pal in Ward No. 6, Mukand Aggarwal (Independent) in Ward No. 18. Two Independents supported by the SAD (Amritsar), Gurdeep Singh Goldi and Satnam Singh, won from Ward Nos. 5 and 14.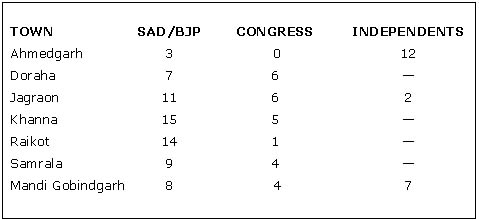 The other results are: Ward No. 1 Gurdev Singh Rehal (BJP); Ward No. 2 Satinder Kaur Bajwa (Ind); Ward No. 3 Raj Rani (Cong); Ward No. 4 Rajiv Sood (BJP); Ward No. 5 Gurdeep Singh Goldi (Ind); Ward No. 6 Dharam Pal (BJP), Ward No. 7 Harmeet Kaur (Congress); Ward No. 8 O.P. Gupta (Ind); Ward No. 9 Jagmeet Singh Sahota (Cong); Ward No. 10 Balwinder Kaur Salana (SAD); Ward No. 11 Sukhwinder Singh Bhambri (SAD); Ward No. 12 Rakesh Kumar Pappu (Ind); Ward No. 13 Kamaljit Kaur Bhambri (SAD); Ward No. 14 Satnam Singh (Ind); Ward No. 15 Harpal Singh Nasrali (SAD); Ward No. 16 Daljit Kaur (SAD); Ward No. 17 Joginder Pal Singla (Cong); Ward No. 18 Bal Mukand Aggarwal (Ind); and Ward No. 19 Mamta Jaluria (Ind).
Mandi Ahmedgarh: Independents ruled the roost in the Ahmedgarh municipal council elections by pocketing 12 out of 15 seats. The BJP lost all five seats it contested from while SAD retained three out of seven.
Despite allegations of large-scale rigging and violence by SAD during the panchayat polls in this district, polling passed off peacefully with no untoward incident reported till the conclusion of polling.
Minor incidents were reported from some booths where senior SAD and BJP leaders contested and lost the election.
Approximately 75 per cent voters, including a record number of women, cast their ballot amid tight security though allegations of partiality by the polling staff in favour of the ruling party were levelled. However, SAD workers and leaders denied any campaign to coerce the voters.
Despite apprehensions of violence, there was a lot of enthusiasm among the voters.
The young and elderly could be seen making their way to booths.
At MGMN Senior Secondary School (ward No. 11), polling had to be stopped intermittently as supporters of the Congress and SAD candidates entered into a scuffle over the issue of identification of voters. Polling agent of SAD candidate Jagwant Singh Jaggie walked out and raised slogans against the staff many times. Commotion prevailed as the opposing parties levelled allegations against each other. The polling staff informed the district administration following which DSP (special branch) Hardevinder Singh Sandhu reached the spot and defused the situation.
Similarly, at ward Nos. 1 and 14, commotion prevailed for a long time.
Avtar Jassal (ward No. 1), Jiwan Singh (ward No. 2), Harbans Kaur Sekha (ward No. 3), Bhag Siingh Bhgga (ward No. 4), Usha Sood (ward No. 6), Dislhad Khan (ward No. 7), Surinder Kumar (ward No. 8), Manjit Chaudhari (ward No. 9), Kedar Kapila (ward No. 10), Bimal Kumar Sharma (ward No. 11), Rajnish Gudo (ward No. 13), Ravinder Puri (ward No. 14) (all Independents), Baljit Kaur Karwal SAD (ward No. 15) Shiraj Mohd SAD (ward No. 5), Gupreet Kaur SAD (ward No. 12) defeated their rivals by wide margins.
Jagwant Singh Jaggie, district general secretary, Ravinder Superfine, president, city Congress, Ashoo Tosh Vinayak, former president, Bhartya Yuva Morcha, Kishori Lal Badhan, former president, and Jatinder Kumar Bhola, former president, are among the losers. (Inputs from Bhushan Sood and Mahesh Sharma)