No Greenhorns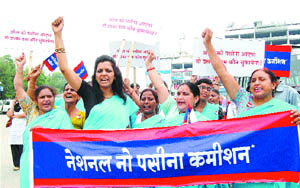 Members of the National No Pasina Commission (NNPC), a voluntary organisation, take out a rally to spread awareness on women rights in Amritsar on Tuesday. — Photo by Vishal Kumar
Spl SAI centre to tap young talent
Amritsar, July 1
The Sports Authority of India (SAI), New Delhi has established STC Day Scholar Extension Centre at Guru Nanak Dev University from the current academic session.
Bhangra in Chinatown
Tarn Taran, July 1
For its third cultural exchange program to be held in China, the union ministry of cultural and sports has selected six students of bhangra and gidda teams from Shri Guru Angad Dev College, Khadoor Sahib.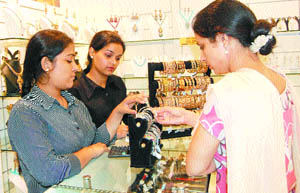 Malls are the new job mills for women
Amritsar, July 1
With globalisation spreading its wings across the world and the holy city being no exception to it, we see big malls and complexes mushrooming in every nook and cranny of the city.

Women, mostly from rural background, are working as salesgirls in various outlets in the city. — A Tribune photograph
Dist docs want new act on Andhra pattern
Tarn Taran, July 1
On the occasion of Doctors' Day, a district-level meeting of the doctors was held on Tuesday under the guidance of Dr Kashmir Singh Sohal, senior vice-president of the PCMS Specialist Doctors Association, Punjab.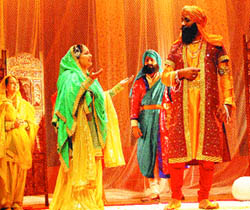 Manch Rangmanch: Creating history in Indo-Pak theatre
Amritsar, July 1
Manch Rangmanch, a cultural action organisation, has scripted a unique history in the field of Punjabi theatre by organising annual theatre workshops of Indo-Pak artistes in Amritsar for the past eight years.

Artists of Manch Rangmanch stage 'Moran Sarkar' at Punjab Naatshala in Amritsar. — Photo by Vishal Kumar