Health Notes
Heavy birthweight indicates rheumatoid
arthritis in adulthood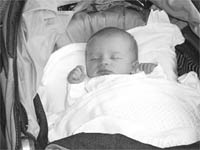 Washington: A new study has found that heavy birthweight babies, particularly female infants, are twice as likely to develop rheumatoid arthritis in adulthood as their average birthweight peers.
Researchers say that the findings support the foetal origin of disease theory, which argues that certain conditions and diseases in adult life are programmed by factors during the pregnancy.
Diabetes, coronary heart disease, and high blood pressure, for example, have been linked to low birthweight while an increased risk of breast cancer and leukaemia have been linked to high birthweight. — ANI
Cancer cure in mice to get human trials
Washington: A potential cure for cancer that destroyed advanced tumours in mice is to be tested on human patients for the first time by scientists at the Wake Forest University Baptist Medical Center.
The treatment will transfuse specific white blood cells, called granulocytes, into patients with advanced forms of cancer. The granulocytes will come from healthy young people with immune systems that produce cells that have high levels of anti-cancer activity.
In the animal studies, white blood cells from cancer-resistant mice cured all lab mice who had malignant tumours. The cells have also been able to kill cervical, prostate and breast cancer tumour cells in Petri dish tests. — ANI
New therapeutic target for severe lung disease
London: Researchers at the University of Illinois, Chicago, have identified a new therapeutic target that may harbour a cure for lung inflammation and injury.
Acute respiratory distress syndrome, also known as ARDS, is an often fatal condition in which the lungs become swollen with water and protein, thereby making breathing almost impossible.
This often leads to death in 30 to 40 per cent of cases.
The team has identified a new function of an enzyme that plays a vital role in the tissue injury in ARDS. — ANI
Happy thoughts could help dampen cravings
London: Thinking about kicking the butt? Well, then recollect all the happy times in your life and what good the future holds for you, for a new study has suggested that thinking happy thoughts could help dampen cravings.
A study by neuroscientists at New York University and Rutgers University has cited that the cognitive strategies humans use for regulating emotions can reveal about both the neurological and physiological responses to potential rewards. These findings may divulge more details about how the regulation of emotions can manipulate decision-making. — ANI
Single mechanism underlying hypertension, insulin resistance
Washington: A study on rats has led to the discovery of a mechanism that may help scientists understand why metabolic disorders like hypertension, insulin resistance and immune suppression arise together in mammals.
The study conducted by bioengineering experts at UC San Diego's Jacobs School of Engineering has also revealed that a drug may effectively counteract the underlying molecular mechanism.
Writing about their findings in the online version of Hypertension, the researchers have revealed that they predisposed rats to develop high blood pressure for their study, and named them the spontaneously hypertensive rat (SHR). — ANI
Molecular 'clash' might trigger allergic conditions
Melbourne: Scientists from the Garvan Institute of Medical Research in Australia have made a molecular discovery, which they claim, might shed light on extreme allergic reactions in some people and offer up a new treatment for the growing problem.
The team conducted experiments in a laboratory test tube and found that allergic conditions like asthma might be triggered by a "clash" between two molecules in the immune system.
One of the two molecules was already known to be very important in allergies. However, the finding — that the other molecule is also involved, and that the two react to each other — has been labelled "very exciting" by allergy experts. — ANI