Beyond the beaten path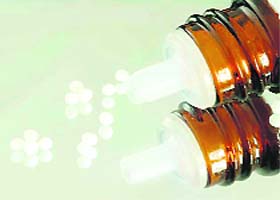 There are many offbeat jobs available today.
All you need to do is think out of the box, writes Jitin Chawla
You're the type of person who shudders at the thought of working behind a desk in a traditional job? You want something thatís fun. Something different. Something unique. The trouble is, you're not sure what that is. You know what you like to do, but you can't get paid to do what you like to do. Right? Wrong. Actually, you can, if you just think a little out of the box, think creatively.
Flexibility can boost employee morale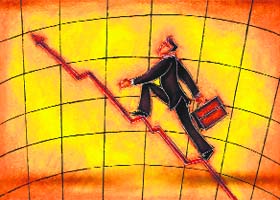 Jamie Herzlich
Employees are looking for a lot more than a pay cheque to keep them happy in today's competitive work environment. In fact, striking a balance between work and family life is one of their top priorities, according to a recent survey conducted by the Society for Human Resource Management in Alexandria. The survey found that more than half of the respondents cited flexibility to balance life and work issues as very important to their overall job satisfaction.
Build self-image to succeed
I.M. Soni
You are better than you think, but all your life you have been troubled by the feeling of inferiority. This led to self-concepts that may be wrong. But as long as you believe in them, you will be influenced by them. Therefore, it is important for you to discover and keep telling youself that you are a much better, abler, healthier, luckier individual than you ever dreamed yourself to be.


Careercature
Sandeep Joshi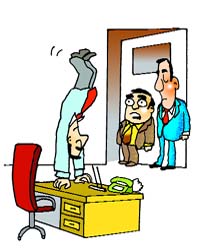 Stress management is desirable, but canít you suggest some simple method?
Smart Skills
Print line
Usha Albuquerque
Printing is one of the oldest and, perhaps, most commonly used forms of visual communication ó its origin dating back to the wooden block impressions of sixth-century China. It was the German, Johann Gutenberg, however, who in the 15 th century, revolutionised the concept of copy reproduction, by introducing the first moveable type.
Be game for career in football
Q. I am a good football player, but I do not know how to make this my career. Please suggest some institutions for training.
ó Dilsher Chahal
A. Perhaps the only one of its kind in Asia, the prestigious Tata Football Academy, Jamshedpur, provides a fully free residential training programme for scientifically nurturing budding footballers.
Tune into sound engineering
Just jasoosi
Armed for action
IGNOU course