Bless The Bandh!

Bharat Bandh:

Boys play cricket as shopkeepers down the shutters of their shops on a call for 'Bharat bandh' by the BJP at Rainak Bazaar; (center) Activists of various Hindu organisations argue with BJP MLA K.D. Bhandari on a point, while (right) protesters throw a hoarding on the GT Road to block traffic near Rama Mandi Chowk during the bandh in Jalandhar on Thursday. — Photos by S.S. Chopra and Pawan Sharma
Pedestrians' Predicament
Traffic monster 'gulps down' walkers, while police looks on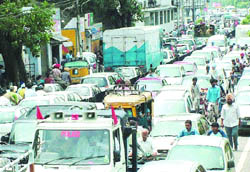 Jalandhar, July 3
Taking a cue from cities gripped with the obsession of a fast-paced routine, accentuated by racing cars, hi-tech gadgets and an aggressively modern lifestyle, Jalandhar too is following suit and is fast heading towards being converted into a modernised avatar of the quiet, peaceful, complacent town that it once used to be.

A traffic jam in a busy city area. — Photo by S.S. Chopra

Gang of dacoits busted, 3 nabbed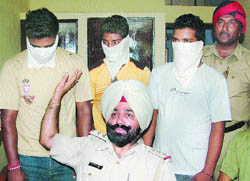 Jalandhar, July 3
The CIA staff of the local police claim to have arrested three members of a gang involved in murder, dacoity, auto-lifting, snatching and other petty crimes in this part of the region. The police has also recovered a stolen Zen car from the gangsters which was being used by them for the past couple of days.

The three members of a gang of dacoits arrested for their involvement in various criminal cases in Jalandhar. — Photo by S.S. Chopra

Sign shock: Forum directs clerk to pay up
Jalandhar, July 3
The District Consumers Disputes Redressal Forum has directed a booking clerk of the Northern Railway, Lohian Khas station, to pay Rs 5,000 to the complainant for issuing him a pass without signatures.
3 killed in road accidents
Kapurthala, July 3
Three persons were killed and 25 others injured in two separate accidents in Phagwara and Sultanpur Lodhi subdivisions of Kapurthala on Thursday.
Cricket match: Pak deaf team to arrive in city today
Jalandhar, July 3
The Deaf Cricket Team of Pakistan, which is on a 10-day visit to Punjab for a friendly Twenty20 deaf and dumb series between Pakistan and Punjab, would be in the city tomorrow for a match.
Two migrants crushed under train engine
Phagwara, July 3
Two migrants from Bihar were crushed to death by a diesel engine near Phagwara railway station on Tuesday night. According to GRP sources, Dilip Kumar and Lakshman Dass of Bihar were run over by the engine when they were returning to their house. The duo probably could not notice the approaching engine due to darkness, the sources added. — TNS