SC fumes over bandhs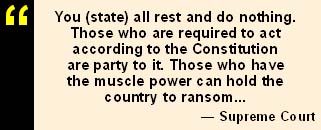 New Delhi, July 3
On a day of BJP-sponsored countrywide bandh on the Amarnath issue, the Supreme Court today upbraided the Executive for showing 'helplessness' in acting against those holding the country to 'ransom'.
The observations came during a hearing on the petition related to the recent blockade of a National Highway in West Bengal by agitators demanding a separate Gorkhaland.
"You (states) all rest and do nothing. Those who are required to act according to the Constitution are party to it. Those who have the muscle power can hold the country to ransom," the SC observed while voicing its dismay over frequent strikes and road blockades in the country.
"Entire life comes to a standstill. The movement of medicine, fuel and everything get affected and the state expresses its helplessness. This cannot be allowed," a Bench headed by Justice Altamas Kabir said.
The Bench, which was hearing the petitions related to the recent blockade of NH 31 A, was surprised that in such type of crisis the authorities were shirking from their responsibility and leaving it to the judiciary to handle the situation.
The apex court also took the opportunity to sarcastically suggest how courts are often accused of interference and judicial overreach when they are forced to pass orders on matters of public importance, which the state is obliged to do by itself.
"They leave their responsibilities to courts. The court has to pass orders, which the state should do by itself. Then it is said there is interference and judicial overreach," the Bench said while directing the Centre and governments of West Bengal and Sikkim to ensure smooth flow of traffic on NH 31 A. — PTI