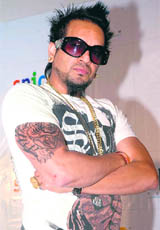 More than just JAZZ
In town for the launch of his new album, Jazzy B talks about Rambo, the youth of today and piracy
He is one Punjabi singer who has been sporting almost the same signature style for quiet a long time now. Spiked hair, a gold chain inscribed in khanda, tattoo on the right arm, white tee and blue cargo's. Some styles are here to stay. Anyways, Jazzy B is every inch the persona that youth love. But this Punjabi singer has lot more than the 'Yo man' style. Jazzy can turn any live performance in an electrifying trance show. From chaste Punjabi to UK accented English, Jazzy B takes no time to flip in between the two.
Photo by Manoj Mahajan
Hair Story 2008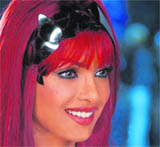 Piggy Chops could, so can you.
Red is the colour. Must have: Oodles of attitude
THE season's biggest sci-fi release has a lot to look out for — an Hrithik Roshan look alike, robots, a love story and yes Priyanka Chopra in red hair! And well, she has given us the clue for this season's hair colour — true reds. So, go ahead and jazz up your look with the colour of the season. But mind you, this is not everyone's cup of tea. You need to have the attitude to carry it.
Layers of fashion
Bored with your old top and faded denims? Fikar not. Here's how to up your style quotient: Sport a short skirt over your faithful pair of jeans and voila, you have made it to the A-list!
In the world of fashion, some fads simply refuse go away. Maybe it is the comfort factor attached to it that does the trick. Like layering. In for quite sometime now, it has captured the imagination of everybody, right from the girl next door to the diva on the ramp.
Little Interview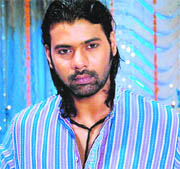 Playing nasty
Ekta camp's bad man Shabbir plays an even darker shade
THIS tall, dark, and handsome man of tellydome was preparing to be a sportsman or a computer programmer till he found his calling six years back. Shabbir Ahluwalia was in Canada back then, finalising upon a good university to pursue his further studies, when Kahiin To Hoga (KTH) happened. And the rest, as they say, is history. Rishi of KTH and Milind of Kayamath, we saw him on 70 mm in Shootout in Lokhandwala.
Sidelanes


The secret to our future
THE view from the large, French windows at the gym in Sector 9 is interesting. Half a dozen children gambol around green spaces. They wear handouts, chase each other, rile the puppies that arrived a few months ago and smile a lot. Their distinguishing, common feature is that they are very thin and dirty. The moment the traffic lights change colour, they rush to the waiting cars and whine, asking for alms.
All's well with Madge & Guy
MADONNA and husband Guy Ritchie have hit out at rumours that their wedding is about to collapse, with a romantic dinner date together in New York. The couple enjoyed romantic meal just hours after Madonna's publicist Liz Rosenberg issued a statement denying the pair is set to divorce.
Fresh Paint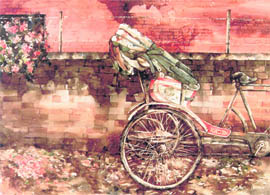 Bheem Malhotra's recent watercolour works are on display at Triveni Kala Sangam
HIS watercolour paintings are often compared to the better-known artists of Kolkata. But Bheem Malhotra makes a deliberate effort to stay away from being typecast. He achieves that by choosing his subject matter which is entirely north-centric and also his compositions which are quite different from what one gets to see in the Shantiniketan type of landscapes.
Sound of music
Studying classical Cremonese violins from the famous masters like Stradivari and Guarneri del Gesu with the help a CT scanner, a Dutch researcher at the Leiden University Medical Center has shown the possibility gaining a better understanding of what renders their sound production superior to that of modern instruments.

Youth speak
Water woes
THE alarming rise in water contamination is an issue of concern and one wonders whether adequate safe drinking water will be available in the future. The latest in this process of destruction is the depletion of marine life by man. For our unquenchable thirst for development, we are destroying the very source that is keeping us alive.
Britneys' signed tee for $20,000
AMERICAN singer Britney Spears' signed Mickey Mouse Club T-shirt is expected to fetch up to 20,000 dollars at an auction. Spears had signed 'I love you grandma' on the T-shirt that she wore during the show.
Creative Zone
Man of Words
IT was his father's struggle for survival, which awakened the writer in him when he was still in school. He wrote a short story Mehangai and sent it to his school magazine only to face rejection. But he didn't lose hope. He sent his story to Vir Pratap, a Hindi daily and they promptly published it. It encouraged him to write more and after five decades Prem Vij has become a name to reckon with in Hindi literature.
New releases
Duel of the debutants
Starring: Imran Khan, Genelia D'Souza,
Director: Abbas Tyrewala
MEET Jai Singh Rathore — 'Rats' (Imran Khan) — the most non-violent Rajput either side of the Aravallis. And meet, if you dare, the violent and passionate Aditi Mahant — 'Meow' (Genelia D'Souza). Whatever you do, do not pick a fight with her. She scratches and abuses.
Secrets of Imran's heart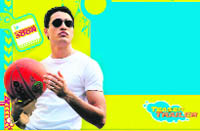 Yet another Khan is rearing to go in Bollywood. We saw him first as a child artiste, essaying the childhood of Aamir Khan in Qayamat Se Qayamat Tak. That child, Imran Khan, is all grown up now, set to take Bollywood by storm with his film Janne Tu…Ya Janne Na. Viewers are eagerly waiting to watch Mumbai lad on the silver screen. The promos have already generated enough curiosity. And this curiosity leads us to talk to this nephew of Aamir.