M A I N N E W S
CBI books Sumedh Saini
Saurabh Malik
Tribune News Service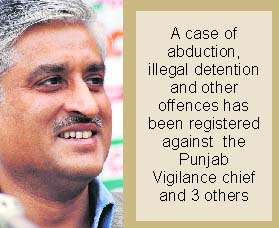 Chandigarh, July 4
The past has caught up with Punjab Vigilance chief Sumedh Singh Saini. Indicting him for his alleged involvement in the torture of "proclaimed offender" Balwant Singh Multani and "missing person" Balwant Singh Bhullar in connection with the 1991 bomb attack on him, the CBI has registered a case of abduction, illegal detention and other offences against him and three other police officers. If established, abduction alone carries a life sentence.
The whereabouts of Multani, an accused in the blast case, and Bhullar, the father of a suspect, are unknown since they were allegedly picked up. It is suspected that the two have been eliminated. The FIR was registered in pursuance of a Punjab and Haryana High Court order directing the CBI to probe into the elimination of proclaimed offenders in the blast case.
At the time of the incident, Saini was the SSP of the Chandigarh Police. In a massive manhunt launched soon after the blast in August 1991, Saini and his team of loyal officers had allegedly picked up Multani from a house in Phase VII, Mohali, to know the whereabouts of a suspect.
Bhullar too was allegedly picked up by a police party to know the whereabouts of his son Devinderpal Singh Bhullar, whose hand Saini suspected in the blast. He is currently on death row in a different case.
After conducting a preliminary inquiry on the high court's directions, the premier investigating agency has stated in the FIR that Multani was illegally detained before being tortured. He was later shown to have escaped from police custody. Balwant Singh Bhullar was also tortured, but to the extent that he lost his mental balance, the FIR asserted. Besides Saini, it mentions the names of Baldev Singh Saini, Harsahai Sharma and Jagir Singh.
A copy of the two-page FIR, registered under Sections 364, 343, 330, 167, 193 and 120-B on July 2, was submitted to a high court Division Bench of Justice Mehtab Singh Gill and Justice Harbans Lal this morning. After going through the FIR, the status report and submissions made by human rights lawyer Navkiran Singh, the Bench granted the CBI four-month time to complete the investigations and, if possible, present the final report before the designated court.