Home aloan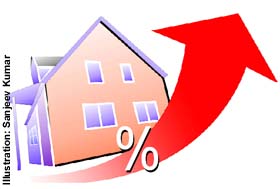 The recent hike in interest rates will further erode the payback capacity of home loan consumers, writes S.C. Dhall
With the inflationary trend persisting in the economy, more and more bankers and lenders are raising the interest rates on home loans. Following in the footsteps of major public sector banks like the SBI, PNB and Canara Bank, others too have decided to hike their prime lending rates in the range of 0.25 to 0.75 basis points. Those who have not already announced a hike are likely to do so after July 15.
Realty cheque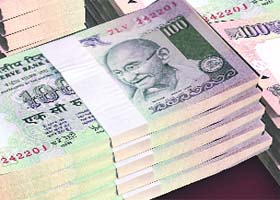 Experts want new financing options for housing
Under pressure from the demand slowdown, the real estate sector must find innovative financial structures to tackle the increasing interest rates, experts say. "Though liquidity was not an issue earlier, the balance between risk and return is gaining importance and, therefore, a look at innovative financial structures becomes important," chairman and country head of Jones Lang LaSalle Meghraj Anuj Puri said at a CII conference in Mumbai recently.
'Interest hike beyond 1.5 pc will hurt'
With the rising inflation and interest rates leading to a slackening in property demand, a one to one-and-a-half per cent increase in interest rates can further impact the real estate sector. "The demand is already slackening. The real estate sector can absorb another 100 to 150 basis points (bps) rise in interest rates, but anything beyond that will hit the industry hard," a real estate money management and services firm chairman Anuj Puri has cautioned.


GREEN HOUSE
Amateur bloom
Satish Narula
As a horticulturist, I salute amateur gardeners for the tremendous service they are rendering to the cause of biodiversity. This they're doing by introducing new species and varieties of flora from time to time. Thus, knowingly or unknowingly, they have become a source of biodiversity conservation in this region. Pine profusion
CONCRETE ACTION
Now, marble boutiques
SVIL Mines Limited, a world's leading marble processing unit, has introduced exclusive marble boutiques called Café Floriana, a totally new concept for branded marble retailing in India, starting in Delhi, Mumbai, Bangalore and Kolkata.
TAX TIPS
Sibling rights
S.C. Vasudeva
Q. My father owns agricultural property which he inherited from his father. We are two brothers and two sisters. Of late, due to some differences in the family, my brothers have forced my father to make a Will against the sisters, debarring us from inheriting. Please advise if, under the law, we can protect our share in this immovable property. Both of us are married.
Inheritance issues

Shared investment

Calculating capital gain