New stars in soccer galaxy
The Euro 2008 has provided football with a problem of plenty — new stars have risen. As clubs get ready to pick their teams for the 2008-09 season, Vaibhav Sharma profiles some of the players who will be in demand at the transfer counter
Football is the world's number one sport, and the Euro championships held in Austria and Switzerland were proof enough to reinforce the sport's prime position. The game play was by and large fair, attack-minded and had nerve-wrecking moments galore.
Wimbledon serves a fashion ace
Tushima Bhatt
Wimbledon is undoubtedly the most popular of all Grand Slam tennis tournaments, and is, in fact, the oldest in the world. Once a tournament steeped in many traditions, it seems that in recent years the grass-court major is becoming more of a red carpet affair, with players sporting their designer outfits with ever-increasing verve.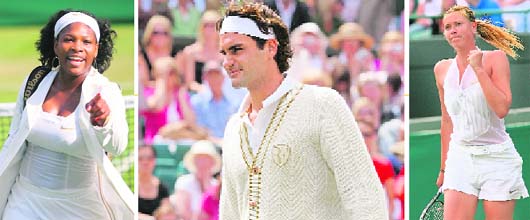 Serena Williams (L) in her trenchcoat, Roger Federer (C) in his 1920s Gatsby-style cardigan, while Maria Sharapova flaunts her shorts — Photos by AFP
Relentless Raina
Abhijit Chatterjee
JUST 21years old, Suresh Raina is not likely to forget his performance in the Asia Cup in Pakistan in a hurry. In the Indian squad probably due to the forced absence of Sachin Tendulkar due to injury, Raina knew that he had been languishing on the benches for too long and had to do something to make his presence felt.