Darwin's Theory
No monkey business
A hundred and fifty years after Charles Darwin's The Origin of Species, there is no certainty about the 'Heavenly Father' not having had a role in Creation, writes A.J. Philip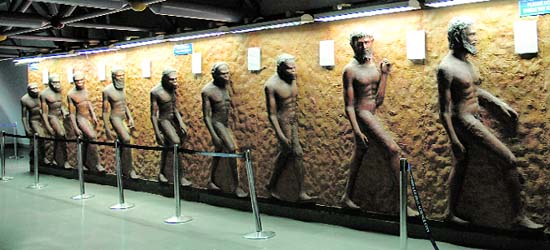 WHILE promenading at the Sydney harbour, I accidentally stepped on a copper plaque that commemorates Charles Darwin's visit to Australia to collect material for his magnum opus, The Origin of Species. Of course, I did not cause any sacrilege, as the plaque was one of several on what is called the "Writers' Path". The plaque reminded me of the 150th anniversary of the publication of Darwin's theory on July 1, 1858. When he presented his theory at the Linnaean Society in London on that day, it did not set the Thames on flames.
City of churches and beer bars
Voted as one of the 10 most liveable cities in the world, Munich is celebrating its 850th year,
reports Anurag Yadav
MUNICH evokes different images for different people. For some it brings back memories of the attack on athletes at the 1972 Olympics, for others it is the venue of beer-swigging Oktoberfest. Many auto enthusiasts know it as the city that manufactures the BMW cars, while for sport lovers it is the home of the football club Bayern M`FCnchen.
Hitler sites draw foreigners
Dorothea Huelsmeier
Tourists can't get enough of Adolf Hitler tours in Munich, where the dictator nurtured his Nazi Party .The guided walking tours include sites, which had significance in Hitler's life like where he gave his first public speech upstairs at the world-famous Hofbraeuhaus beer hall in 1918.
Tiny robot that jumps
SWISS researchers have developed a new robot inspired by a grasshopper. The miniscule seven grams robot unveiled by researchers from Laboratory of Intelligent Systems at EPFL at the IEEE International Conference on Robotics and Automation in Pasadena, California, can jump 1.4 metres, 10 times farther for its size and weight than any existing jumping robot.
Story of a civilisation
TIRED of watching endless 'saas bahu' dramas on television? A new serial on the ancient civilisation of Mohenjodaro will take viewers back in time to show the culture of these highly evolved people and how they lived and dressed. To be made on the lines of serials like 'Discovery of India' and 'Chanakya', the serial titled 'Sambhav' will depict the lifestyle of people of the ancient civilization with various dramatic elements.
Mothers aim to scale Mt Kilimanjaro
Forty-five year old Premlata Aggarwal, a mother of two is all gung-ho about climbing the world's tallest freestanding mountain, Mt Kilimanjaro. Aggarwal is the second oldest member of the 10-member team led by Bachendri Pal (54), the first woman to scale Mt Everest, which will attempt to climb the 19,000 ft high mountain in Tanzania. At 54, Pal is the oldest.
No laughing matter
Derek Bose checks out why not a single rib-tickler has made its mark this year
THE way comedies are bombing at the box office is not funny. While way-out mindless action dramas like Race and Jannat are turning out surprise hits, not a single rib-tickler has made its mark this year. Even serious, issue-based films like Black and White, Shaurya and now, Aamir are finding eager audiences.
King of comedy
Mehmood is the only comedian in post-Independent India who commanded equal billing with the top heroes of his time. He debuted in 1943 as a child artiste in Kismat and made his mark in 1958 with Parvarish. But it was not till the mid-1960s with films like Love in Tokyo, Bhoot Bangla and Gumnam that he got into his elements.
I enjoy making films: Rajat Kapoor
AN actor in Khoya Khoya Chand, industrialist in Corporate, music producer in Bheja Fry and now a journalist in Via Darjeeling, actor-director Rajat Kapoor says, he enjoys playing different roles in his films. "That is what one tries to do all the time — be different — isn't it? In my forthcoming films, you would see me playing different roles," says Rajat.


Bird watch

A hunting falcon is shown before a national competition of hunters with birds in Taldykorgan in this file photo. The largest study ever of bird genetics has uncovered some surprising facts about the avian evolutionary tree, U.S. researchers said recently, including many that are bound to ruffle some feathers. Falcons, for example, are not closely related to hawks and eagles, despite many similarities, while colourful hummingbirds, which flit around in the day, evolved from a drab-looking nocturnal bird called a nightjar. And parrots and songbirds are closer cousins than once thought. The findings challenge many assumptions about bird family relationships and suggest many biology textbooks and bird-watchers' field guides may need to be changed — Reuters
Struggle for a fair deal
Domestic workers have little bargaining power over their wages. They have neither job security nor entitlement to paid leave. The Domestic Workers' Bill, if passed, will be an important step towards securing their rights, writes Anuja Agrawal
THERE is no prize for guessing what two middle class women talk about whenever they meet. Invariably, the topic of maids and servants dominates their conversation. It will be no exaggeration to say that the middle class can barely imagine life without domestic workers.
Look young with a thin tie
Prabhakar Tembe
WHEN you buy a tie for yourself, you can be very choosy. The trick lies in mixing old with new—-sort of combining classic patterns with slimmer modern shapes. Ram Malhotra, chief executive of Atlanta Dresses, Bombay, says it has become an industry joke that a seemingly small detail such as tie width or lapel style could be considered a drastic shift.
Bear hug & tears
THEY met after nine days at what was a tearful renunion. He fed the one-year-old milk and hugged her tight. And, no, that was not a father meeting up with his daughter, but Ram Singh Munda meeting Rani, the sloth bear who had been snatched away from him and kept in a zoo.