Landmarks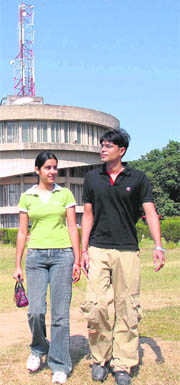 UNIVERSITY can be an artistís inspiration at nightfall. Sneha Sharma, of Sarojini Hall, says: "Student Centre, in fact the whole university, at evening is a different scenario altogether. Dim lights, vast grounds, green environs- itís all so beautiful." No wonder, many glances are exchanged and hearts sent aflutter during this time.
Hosting fun
Hostel life is one hell of a roller coaster ride, but once you hop on, it keeps getting better
YOU have taken admission in your aspired course and are all set to leave the comforts of a familiar city and home. The big question: accommodation. Along with it come a string of conditions and demands ó five-star food, freedom and privacy topping the list. But before you jump onto the paying guest bandwagon, all in search of so-called freedom, we would like to give you a feel of the university hostel life.
Thoda fun, thodi seriousness
YOU donít want to talk about just the seminars, lectures, practicals and vivas (yawn!) at the end of your university life. For sure you want to be able to brag about the scandalous deeds, naughty-flirty encounters, spicy anecdotes and the lazy fun-filled days. For these are the things youíll remember years after youíve passed out. We guess you got the picture. Hereís a list of things you must do while during your university days. Otherwise, itís as good as coming out without a degree.
Of lines & forms
Understand art through the soon to start appreciation course
EVEN when our experience tells us that there is no other way of expressing what goes through an artistís mind at the time of creating a painting or a sculptor than colours and lines, we often end up coaxing the artist to express his work of art in words. Little realising that if he were trying to say something, which could have been expressed in words, he would have probably written it down as a poem or a story.
We are the World
Espousing social causes is no longer celebrity domain. There are many little things you can do at home to make this world a better place
PLEASE switch off the computer, bulb and the fan when you leave the room. Turn off the tap when brushing your teethÖ You have heard these instructions before and must be following them too. So, we arenít even preaching it anymore.
Orkut Strikes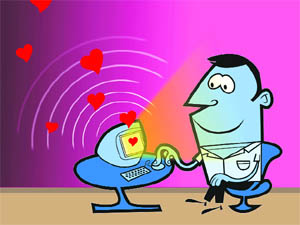 Friendship sites are witnessing the entry of a new group ó 40+ lonely hearts in search of soulmates
The world is a little queer? People dating on Internet, irrespective of age. Middle-aged men back on the dating scene, frantically checking profiles of girls on Orkut. Just curiosity or are they looking for people they can be friends with? Lamented as 'lecherous uncles', the circumstances that bring these men into 'friend hunt' are not always pleasant ó a widower mourning the loss of a spouse or a scorned divorcee with a broken heart.
Old is gold, always
We know, opposites attract. A good girl falls for a mean guy or vice versa. In the same league, a young girl falls for a man double her age. Havenít you heard of Nikolas Sarkozy-Carla Bruni, Imran Khan-Jemima Goldsmith, Micheal Douglas-Catherine Zeta Jones. And what do they say, young pretty girls falling in love and eventually marrying these old (but sexy) men.
Sisters in law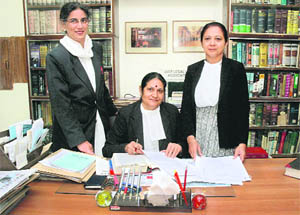 Three women vow to prove themselves in the field of law
They represent the true spirit of Ally McBeal, but minus her histrionics. Three empowered women ó all set to change the face of the legal profession, or rather the image of women lawyers. Geeta Sharma, Madhu P. Singh and Harpreet Dhillon would have continued with their High Court practices in their respective fields, had they not been struck by the idea of setting an example, by standing together in this men-dominated field.

Matka Chowk
World of difference
WHENEVER I travel, I end up observing things about people and places that will not find a place in any tourist guidebook. However, difference is the essence that makes this universe richer and more livable, perhaps. Now that I am writing this piece from the soils of America, I feel as if my soul is trapped in two places.

Hathaway sought advice
Anne Hathaway reportedly sought Dame Julie Andrews' advice before she finally parted ways with boyfriend Raffaello Follieri, according to reports. The Devil Wears Prada star, reportedly spoke to the legendary actress before finally ending her romance with the Italian businessman.

Wah Punjab
Havenít heard of a Punjabi food festival in a long time. When Virsa, a newly opened Punjabi-cum-Baluchastani specialty restaurant in Phase 9 announces an Dhol Dhamaka Punjabi Food Festival, it is a palatable delight.

First day first show
Fresh & Funny


Jaane Tu ...
Watchable
Itís not a humdinger of a show. How on earth can a narrative revolving around a boy and a girl who are in love but are in a state of denial make for a riveting viewing, one may wonder. Agreed, Jaane Tu Ya Jaane Na is a routine story, but one presented in a contemporary manner. It is all about college fun and youngsters who are pranksters. Rotlu, Bombs, Shaleen, Jiggy, Jai and Aditi have a great zest for life and indulge in bubbly banter.

Health Tip
PEOPLE who undergo heart surgery cut down on their physical activity and feel that they have cured themselves. The main objective of physical activity after surgery is to reduce stiffness due to prolonged bed rest, enhance muscle strength and improve overall well being.