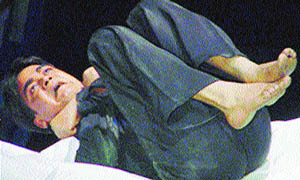 Punjabi theatre takes upswing with Dhaliwal's new vision
Amritsar, July 8
Shiromani Natak-kar award-winner Kewal Dhaliwal, who is the product of the National School of Drama, has been doing yeoman's service to the theatre in Punjab.

A scene from Kewal Dhaliwal's play.
Diabetes cure may lie in Isabgol
Amritsar, July 8
Patients of diabetes mellitus have now a reason to cheer as Amritsar-based Dr Jaspal Singh Gill has claimed to have found a treatment for the disease.
Liquid Diet For Deities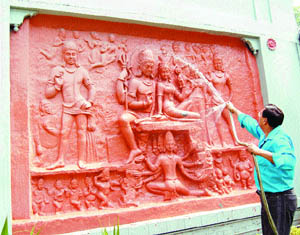 Wall sculptures being washed with water at Thakur Singh Art Gallery in Amritsar. — Photo by Vishal Kumar

'Give PUSA-1121 basmati status'
Amritsar, July 8
The Punjab government, in its bid to encourage a large -scale cultivation of newly-developed PUSA-1121, has strongly recommended to the central government to define this rice variety as basmati.
84-yr-old gets knees replaced successfully
Amritsar, July 8
"The walking stick and walker are the things of the past and I think I will be able to run in a few weeks time," remarked B.N. Kapoor, a New Delhi resident, who has undergone a successful replacement of both knees at the age of 84 years at the Escorts hospital here recently.
Campus Buzz
Counselling dates announced for MBA/MCA courses
Amritsar, July 8
Guru Nanak Dev University would hold counselling for admission to the five-year integrated courses of MBA and MCA on July 14 in Guru Nanak Bhavan Auditorium of the University here.
School News
NASA, Disneyland tour leaves students spellbound
Amritsar, July 8
The 31-member team of DAV Public School returned after a study tour to NASA. They also had a chance to visit the Disney's Theme Parks. Enthused over their experience, the group said they were fascinated to see NASA's spacecraft and launch site.
Students briefed about aviation jobs
Amritsar, July 8
Director airport Arun Talwar inaugurated the ultra-modern aviation lab in BBK DAV College for Women here. Addressing the students, the director apprised the students of scope in the aviation industry, adding that there were ample job opportunities available in the sector.
Going Arty
Nurturing art through exhibitions, workshops
Amritsar, July 8
With an aim to give a platform to the contemporary artistes, the Indian Gallery of Fine Arts was founded by Master Gurdit Singh and Sardar Dharam Singh.