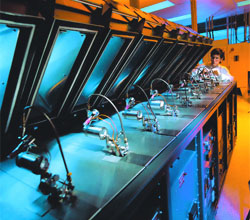 Mind on matter
Science students disappointed over not getting into a college course of their choice would do well to consider a career in physics, writes Usha Albuquerque
Did you know that you can make 1,00,000 slices of toast with the energy from a bolt of lightning? A study of physics can help you understand this and many more amazing facts. Physics is at the heart of everything and is a highly rewarding discipline of study. It explores questions like: How did the universe begin? How will it end? What is a black hole? Is time travel possible?
Tutored Truth
Coaching classes are doing roaring business
With a dramatic increase in the demand for professionals in almost all spheres and good quality education becoming an avenue to success, private coaching institutes have mushroomed across the country in recent years, becoming an industry worth thousands of crores.


Careercature
Sandeep Joshi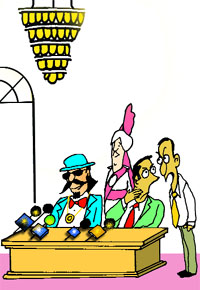 Sir, how can we sign an FDI deal with him? He looks foreign, but he is a local person!
Career Hotline
Tune in to reality shows
Q. I am a 20- year-old middle class girl with a good voice and want to become a singer like Sunidhi Chauhan or Shreya Ghoshal. Please tell me how I should go about it. I want to know about singing competitions and their selection process.
Field work
Sea your future
Boss Baiting
Work smart, not hard to please your senior
Merely saying "yes" to the boss and heartily laughing at all his/her jokes may be an easy way to earn you brownie points. But the genuine skill lies in identifying your type of boss and responding in a specific fashion.
A job to steel
Steel, energy sectors to generate 40,000 vacancies
Riding on planned capacity additions, steel and energy sectors are likely to create 40,000 jobs in the next few years even as these segments are facing a shortage of experienced and skilled manpower to an extent of 40 per cent, an Assocham report from New Delhi has said.
Lawful return
Young lawyers are going back to domestic legal firms
In a reversal of trend, young lawyers, who earlier queued up to join the Legal Process Outsourcing (LPOs) outfits in search of fatter pay packets, are returning to domestic firms. The change has come as a boon to the Indian law firms which have been facing a shortage of talented legal professionals who can take over the increasing load of litigation and non-litigation work, according to a latest report from New Delhi.
Indians high on demand in Saudi medical, IT sectors
There is a tremendous scope for Indian professionals, especially in the medical and IT sectors of Saudi Arabia, which hopes to meet its requirements by importing workforce, an official has said.
Jobs grounded
Airlines begin laying off staff to cut costs
Soaring fuel costs and falling passenger load factors due to high airfares have led several airlines to resort to drastic cost-cutting measures, with no-frills carrier GoAir sacking at least seven employees in the last few days.
Bits & Bytes
Aptech job fest a big draw
Aptech Computer Education's job fest open, that was both to insiders and outside aspirants, met with great success in New Delhi recently, attracting a total of 3200 students.
Orientation course for budding managers held