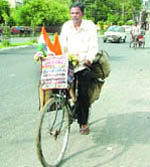 For peace, he'll pedal with mettle
Jalandhar, July 8
Fifty-year-old Ravinder Kumar Lakhe is on a mission of "Bharat bhraman" under which he aims to unite the world with the message of world peace and harmony. For this purpose he has been travelling on his bicycle and visiting different places to fulfil his dream. A native of Raipur district in Chhattisgarh, he has covered a distance of approximately 15,000 km so far.

Man on a mission: Ravinder Kumar Lakhe
Go Undercover With Style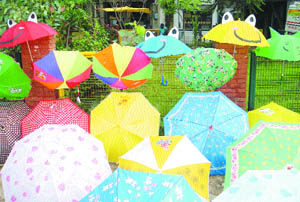 With monsoons playing hide and seek, the demand for umbrellas has shot up in the city. — Tribune photo by Vikas Katoch
Young World
Now, LPU lessons through distance learning
Jalandhar, July 8
Lovely Professional University is going to start Lovely School of Open and Distance Learning from the coming session. Under the branch, the university would offer different degree and diploma courses in management and information streams recognised by the Distance Education Council, New Delhi.
End commercialisation of education: ABVP
Jalandhar, July 8
Alleging that the Punjab government has ruined the education system of the state by allowing its commercialisation, the Akhil Bharatiya Vidharthi Parishad (ABVP) on Tuesday declared that it would launch an agitation against the state government on the issue and demand immediate conduct of the student unions elections which were banned in 1982.
Punjabi singer plays RJ


Jalandhar, July 8
Punjabi singer Jaswinder Bains, alias Jazzy B, acted as radio jockey for "Punjabi tashan" on BIG 92.7 FM here on Friday. Jazzy talked to the people of Jalandhar on the radio for an hour. He answered the questions of listeners and played rocking numbers during his stay at the mike. Jazzy also talked about his new album "Rambo".
Roadways staffers raise slogans against govt
Jalandhar, July 8
Irked over non-acceptance of their long-pending demands, members of the joint action committee, Punjab Roadways, held a massive demonstration and burnt the effigy of secretary of Punjab transport department near the local bus stand, here today. The irate protesters also raised slogans against the state government and transport minister Master Mohan Lal Sharma.
20-yr-old kills self after failing in exam
Jalandhar, July 8
Disappointed over his own performance in the examination, a 20-year-old youth of Suchi village committed suicide by consuming some poisonous substance this afternoon.Student of a local private college, Ashok Kumar took the step after he was declared fail in the BA-II examination. — TNS