Manekshaw: The legend lives on
It was the quality and style of his leadership that made SHFJ Manekshaw an icon,
says Gen V P Malik (retd) in this tribute to India's first Field Marshal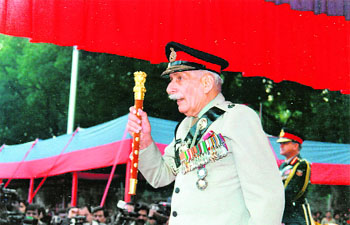 Field Marshal Manekshaw loved his troops and received similar affection from them. He would be emphatic, humorous and witty, but never angry
They say 'old soldiers never die; they fade away'. But Sam Manekshaw who passed away on June 27 at Wellington (Nilgiris) will never fade away. He will remain a legend and part of Indian Army folklore, if not of the nation because India's political leadership and bureaucracy would not allow it.
Much has been written and telecast about Manekshaw: his character, military achievements, contribution to the nation and his ability to charm as well as upset political leaders. Much more are the reports reflecting public disappointment and anger over the disrespect shown by the government to this national hero and what he represented.
Manekshaw was brave: he proved that during World War II at Sittang where he was wounded and awarded the Military Cross on the spot. India and the world saw him as a great military strategist during the 1971 Indo-Pakistan war. But not many would know of his rapport and correspondence on strategic issues with the Kings of Nepal and Bhutan, and others.
He was a man of principles and strong character. He refused to bend when V K Krishna Menon and his chamchas, instituted an inquiry against him, primarily to enable his supersession. Soon after that, he went about undoing what these very people had done to the morale and confidence of 4 Corps during the 1962 war. Later, as Eastern Army Commander and Army chief, he infused confidence in the Army with professional competence and charismatic leadership. In 1971, he achieved a military victory considered among the finest in the world. In the post-Independence military history, that was India's finest hour. A long journey from the 1962 debacle.
Manekshaw was independent India's greatest military leader. His professional acumen and achievements are well acknowledged. But more than these, it was the quality and style of his leadership that made him an idol, an icon and a legend. He loved his troops and received similar affection from them. He would be emphatic, humorous and witty, but never angry. There are legendary anecdotes and tongue-in-cheek remarks of Manekshaw.
In February 2000, a foundation in Pune gave me an 'Excellence in Leadership' award — to be handed over by the Field Marshal. After handing over the award and saying many good things about me, he said "`85but I don't consider General Malik to be a brave man! He did not have the courage to kiss the pretty young thing who gave him the bouquet of flowers."
As Commandant, Defence Services Staff College in 1960, he wrote on the home work of a student officer (when many wives helped their husbands with good handwriting and file-work, called 'minor staff duties' in the services), "Over the period, I find that your wife's minor staff duties have improved considerably. But your major staff duties (the substance) remain as bad as ever."
Manekshaw belonged to the old genre of Army officers: smart, handsome, chivalrous and a ladies' man, which is almost extinct now. He had the greatest respect for Prime Minister Indira Gandhi but that did not stop him from extending his wit and charm to her before or during the most serious discussions. She took it in the right spirit unlike many of her political colleagues and envious secretaries. In fact, she enjoyed it.
His leadership quality can never be underplayed. It is a pity that the nation failed to utilise his greatest asset adequately. Why did that happen? Why did the Government of India fail to recognise his monumental contribution? Why does Indian military attract jingoistic lip-service from political leadership in the time of war and is neglected thereafter? Why was there such a disgracefully low-key political and military representation at the Sam Manekshaw requiem? These are important public interest questions.
Ever since Independence, India's military institution has remained marginal to its politico-bureaucratic ruling elite. Pandit Nehru adopted a`A0disdainful attitude towards it and encouraged the civilian bureaucracy to control the military till that became an institutionalised functioning norm. This practice continues even today. Except in war or a warlike situation, military leadership was neither encouraged nor allowed to contribute to higher politico-military strategic planning.
Our nation, besides Independence and Republic days, celebrates every little achievement including birthdays of political leaders; even a cricket victory anniversary. But political leaders seldom participate in the ceremonies recalling military achievements. The excuse trotted out for holding 'quiet' celebrations or for not celebrating at all is that the 'peace process' would be jeopardised.
Ironically, the same excuse was given in December 1996 when armed forces planned to hold silver jubilee celebrations to mark the victory in the 1971 Indo-Pak war led by Manekshaw. The Cabinet Secretary summoned a meeting to discuss the issue. I was asked what was the need to celebrate this anniversary. I reminded my civilian colleagues of Earnest Renan's quote: 'What constitutes a nation is not speaking the same tongue or belonging to the same ethnic group but having accomplished great things in common in the past and the wish to accomplish them in future.' My service colleagues and I had to argue the case forcefully before the President, the Prime Minister and other political leaders gave their consent to participate in the events.
In our country, after every war, the armed forces are glorified, greatly respected, even treated with awe. But soon thereafter, they are forgotten and neglected by the politico-bureaucratic elite and, therefore, the society. This situation is worsening progressively as the elite do not send their kith and kin to join the armed forces anymore. The recommendations of the Sixth Central Pay Commission and street agitation by the medal wearing ex-servicemen in its wake reflect that, if any proof is needed.
The galling absence of the Naval and Air Chiefs at the Field Marshal's funeral reflects the lack of integration at the highest military level as well as their spirit of joint-ness.
(The writer is former Chief of Army Staff and associated with ORF Institute of Security Studies, New Delhi)