Spice and spirituality
Madhusree Chatterjee
City of Love
by Rimi B. Chatterjee. Penguin. Rs 295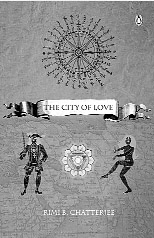 The year is 1510, half-a-century after Vasco da Gama made his first landfall in India. Bengal is under the rule of the benevolent sultan Hussain Shah. Four persons set out on individual journeys in the quest of enlightenment and bags of gold. One travels to the end of the world, another meddles with the fates of kings, the third loses all he had and the fourth finds the 'city of love'.
Rimi B. Chatterjee's new novel, City of Love, published by Penguin Books India and shortlisted for next month's Crossword-Vodaphone award, tells the story of these four connected lives.
"The time period, 16th century, fascinated me because it was the time when the country came in contact with the Europeans, just before the colonial rule," Chatterjee told IANS from Kolkata. She says the era had rich layers.
"It was the golden age of the spice trade which encompassed the whole world, barring America. There was a whiff of exotica in the air when even the common people sought salvation through religion and spirituality. Several religions were flourishing together at the same time," the author explains.
City of Love had been gestating for nearly seven years inside the author's head.
"It had been there even before I was writing my first book, Signal Red, a science fiction. In fact, the subject occurred to me when I was researching my second work, Live Like a Flame, a historical novel set in the present. It is yet to be published," Chatterjee said.
The author, who teaches English in Kolkata's Jadavpur University, was born in Belfast, Ireland, grew up in England, and later came to live in India. She studied at Jadavpur University, Kolkata, and at Oxford University.
A science student in high school, her interests include books, creative writing, post-colonial literature, translation and romantic literature. Besides, she is fond of martial arts, gardening and theatre.
Chatterjee's love affair with storytelling began early. "Even as a five-year-old I had this habit of telling stories. I wrote regularly, mostly for myself, throughout my school and university years till the 30s, when I decided to write my first novel in 2001. I was 33 then," she said.
Her years as a teacher in the Indian Institute of Technology (IIT), Kharagpur, inspired her first published book, Signal Red, about a defence scientist in a super-secret laboratory.
"But, I think, literature breeds a natural love for history and I decided to take a leaf out of the pages of the history books for my second novel," she said.
The protagonists in City of Love are Fernando Almenara, a Castilian trader fleeing persecution in his native land, Daud Suleiman al-Basri, a Moorish pirate driven by his desire for wealth and power, Chandu, a Shaiva-Tantric novice searching for salvation that eludes him, and Bajja, a tribal girl seeking spiritual freedom in 16th century India.
It is Bajja who stumbles upon the 'city of love', a metaphysical kingdom around which the book revolves. It is a land that exists in the realms of human consciousness nurtured by love, all possible kinds of it.
The kingdom, or rather the concept of 'Prem Nagar' or 'Ashqabad' that the book dwells upon, is central to the unconventional mysticism preached by the sufi, the baul, the tantrik and the freewheeling European Christian mystics, who converged on India at that time, giving birth to a parallel religion that flourished outside the dogmatic confines of Islam, Hinduism and European Christianity.
The book ends with a burst of faith (bhakti) and love after spanning diverse religious terrains, including pagan tantrik rites.
Fantasy books, science fiction and classics shaped Chatterjee's formative years. "I was an avid reader," she said.
The author is candid about the state of contemporary literature. "The country lacks good literary critics who can come up with objective and informed criticism and reviews of books to tap the high end of the popularity market. Consequently, publishers hype the books that they want to - which is not always good literature," Chatterjee said. Asked to list some of her current favourites, the author cites Amruta Patil's graphic novel Kari and Allan Sealy's Trotternama. — IANS