The gramophone brigade
Jalandhar, July 17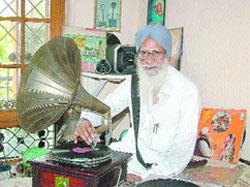 Ustad Abdul Karim Khan had a dog which intently used to listen to him as he carried on with his daily riyaaz. It is said the loyalty did not die down even after the death of the classical maestro as the dog then took to listening to his voice from the gramophone in a melancholy state of mind, with tears rolling down its eyes. This tale of the loyal dog of the great artiste, we hear, gave birth to the logo of the famous music company HMV or "His Master's Voice".
Balwant Singh shows his collection of gramophone records. Photo: S.S. Chopra
| | |
| --- | --- |
| Suraj Malhotra | Suraj Malhotra |
Auto thieves' gang busted, 4 held
Jalandhar, July 17
With the arrest of four persons, the CIA staff of the local police claimed to have busted a gang of auto thieves. The accused have been identified as Manmdeep Singh, alias Kala, Rakesh Kumar, Munish Kumar and Balbir Singh.
Things finally look up for Burlton Park youth hostel
Jalandhar, July 17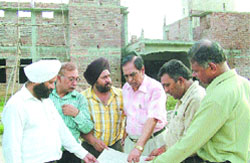 Deputy secretary, youth affairs and sports, D.P. Bharadwaj along with youth hostel warden from Dalhousie, Samuel, came for the inspection of the under-construction youth hostel at Burlton Park here.


Deputy secretary, youth affairs and sports, D.P. Bharadwaj and assistant director, youth welfare, Capt I.S. Dhami inspect the underconstriction youth hostel at Burlton Park in Jalandhar on Thursday. Photo: S.S. Chopra
e-payment mandatory for units with Rs 40-lakh turnover
Jalandhar, July 17
The mandatory legal framework and procedures involving e-payment of income tax were laid threadbare before professionals and representatives of corporates, and firms at a workshop on "e-payment of taxes", organised by the State Bank of Patiala here today. The e-payment of taxes, according to the commissioner of income tax, who was the chief guest, has been made mandatory for the corporate assessees and others who came under the preview of section 44 AB ie firms and individuals having annual sales turnover of Rs 40 lakh in any previous year. The limit for the professionals was Rs 10 lakh per annum.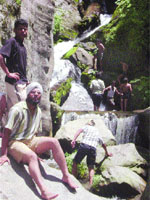 Youth learn a lot, besides trekking, at this camp
Jalandhar, July 17
For 25-year-old Sunil Kumar, a resident of Khurla Kingra village, life is yet another name for adventure and thrill. This student of Janta College, Kartarpur, recently came back after attending a 10-day national hiking and trekking camp at Manali. The state department of youth welfare has been conducting these trekking camps every year.




Students cross a river during a trekking camp at Manali.
Funds for memorial to father
NRI feels cheated
Jalandhar, July 17
The sincerity with which the Punjab government treats its citizens can be gauged from the fact that a stadium constructed with private funds has been shown in official records as a government project.


Jaswant Singh
Young World
KMV students grab most of merit pie
Jalandhar, July 17
As many as 60 students from Kanya Maha Vidyalaya have secured merit positions in various examinsations conducted by Guru Nanak Dev University. The top rankers are Sanjogita in MSc (IT), Rinkie in BA-I (English hons), Aastha Saini in BA-III (hons), Amandeep Kaur in BCA-II and Jyoti Saini in BSc-III (biotech), Neeti Gulati in BSc-I (non-medical), Gurjinder Kaur in BA-I (English hons), Natasha Singh in BA-III (English hons), Balwinder Kaur in MSc (IT)-III and Isha in BA-I (English hons).
Tributes paid to Justice Chandrachud
Jalandhar, July 17
Rich tributes were paid to former Chief Justice of India Y.V. Chandrachud by members of the All-India Central Government Pensioners Association who recalled his landmark judgement that brought relief to lakhs of pensioners in the country.