Good Samaritans keep dreams alive
Amritsar, July 18
Financial aid continues to pour from India and abroad for the rickshaw puller's bright son Om Parkash and other needy students whose plight was highlighted by The Tribune.
Sharp dip in HIV cases in Amritsar
Amritsar, July 18
As per the UNAIDS fact sheet, due to the decrease in the HIV positive cases in Amritsar city and its surrounding areas the city has come into the "C" category from the "A" category in year 2005.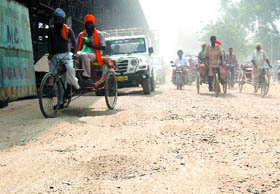 Back-breaking business
Amritsar, July 18
Commuters and public have been suffering for the past two years due to the poor condition of the GT Road alongside the ambitious 4 km-long elevated road being constructed to ease the traffic congestion for the tourists and devotees visiting the city of the Golden Temple and historic Jallianwala Bagh.
Everyday Ordeal: A drive on city's roads is a nightmarish experience. — A Tribune photograph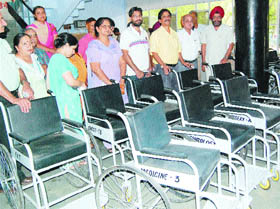 Canadian Care
City to have diagnostic centre for cancer patients
Amritsar, July 18
The Youth For Equality (YFC) donated 16 wheelchairs, a water cooler and Rs 15,000 to Dr J.S. Dalal, director, research and medical education, Punjab, at Guru Nanak Dev Hospital here today.
Medical college students donate wheelchairs and a water cooler to Guru Nanak Dev Hospital in Amritsar on Friday. — Photo by Vishal Kumar
Supporting a cause
Amritsar, July 18
The Artificial Limbs Manufacturing Corporation of India, in association with the District Red Cross Society, would provide artificial limbs free of cost to disabled having an income of up to Rs 6,200 per month. This was disclosed by deputy commissioner-cum-chairman of Red Cross Society Kahan Singh Pannu here today.
Libraries need an image change: Expert
Amritsar, July 18 There's an immediate need to change the image of the libraries. Also, it's important for librarians to understand the needs of the users and provide them services as per their requirements.
3 nabbed with stolen vehicles
Amritsar, July 18
With the arrest of three persons, including a woman, the police today busted a gang of auto-lifters and recovered a stolen car and motorcycle from their possession.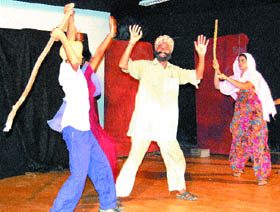 'Teesra Netra' moves audience
Amritsar, July 18
Plays "Teesra Netra" and "Avesle Yudha Di Nayeka" were enacted at Kartar Singh Duggal Auditorium in the Virsa Vihar centre last night. "Teesra Netra" and "Avesle Yudha Di Nayeka" have been written by Dr Sahib Singh and Prof Ajmer Aulakh, respectively.
A scene from play "Nashe ki Maari Aurat Bechari" staged at Virsa Vihar in Amritsar. — Photo by Vishal Kumar
Fitness Mantra
'Yog Shivir' to conclude today
Amritsar, July 18
The three-day 'Yog Shivir' being organised by 'Baba Ramdev's Patanjali Yog Samiti' at All-India Women Conference (AIWC) centre will conclude on Friday.
New gas agency to benefit consumers
Amritsar, July 18
The district food supply controller Dr Anjum Bhaskar in a press note issued here today informed that a new gas agency of Hindustan Petroleum Corporation, A S Gas Service, has been opened at Gumtala. The consumers of the area had been left high and dry with the closure of Amrohi Gas Service.