Street Smart
Lane houses seem to be an innovative concept, especially for those living in the fast lane, writes Kanchan Vasdev
| | |
| --- | --- |
| If you want to live in a well-furnished house, replete with all basic amenities and designed by a professional, but you don't have the time to construct it, then lane houses, a concept picking up fast in Ludhiana city, could be your solution. Further, with ever spiralling land prices, these identical houses constructed, as the name suggests, on both sides of a lane, are easy on the pocket too. | Photos by Inderjeet Verma |
Villa Vista
Rs 18 cr FDI investment in Amritsar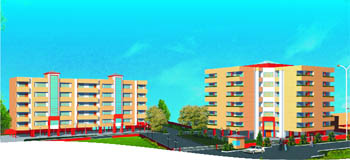 Two well-known big real estate players from India and abroad have come together to form FDI joint venture projects in the holy city of Amritsar. Reputed names in the realty sector, Impact Projects Pvt Ltd and South Asian Real Estate Limited (SARE), in a significant joint venture for an equity fund company, based out of the Isle of Man, have decided to invest Rs 18 crore to build mega housing and commercial projects here.
Homes alone
Door Decor
The door is the outer face of the house and of the people who live in it. If care is taken to make the entrance a positive energy space, it bodes well for the inmates. The objects for the decoration of doors as prescribed in the texts are: (a) kula devta---the image of the family deity.
REAL TALK
Room service
Budget hotel properties are witnessing rapid expansion, says Vilas Pawar, CEO, Choice Hotels, India, in a chat with Ruchika M. Khanna
What is the scope of budget hotels in India when the big players are fast reeling under inflation?
In this era of rising inflation, when big players in the hospitality sector are considering slashing of room tariffs, the budget hotels are seeing a further growth, especially in the Tier-II and Tier-III towns.
Tax tips
Taxing Calculations
In continuation of the tips on calculating capital gain, here are other exemptions:
Benefit of exemption limit available:
An important point to be noted in this regard is that though the capital gain is chargeable on a different rate than the income arising under other heads, (on which tax is chargeable at the slab rate), in case the tax payer has an income under the head capital gain as well as under other heads of income, the benefit of the limit up to which tax is not payable is duly allowed under the provisions of the Act.
GREEN HOUSE
Godís own bounty
Nature cannot be replicated though there exist poor man-made imitations. Different kinds of flora find their unique expression in the form of flowers, leaves, unusual shapes, colours etc to, basically, attract the attention of the insects for the purpose of pollination to continue their species.