Unreal
reality
A flexible format and absence of a script or time-consuming rehearsals have made TV reality shows the stock-in-trade of production houses. Amar Nath Wadehra and Randeep Wadehra look at how participants, especially children, are becoming victims of these programmes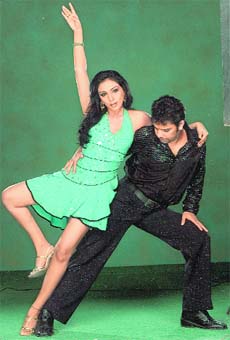 TEST OF NERVES: Even seasoned celebrities wilt under pressure during competitive situations in reality shows often leading to emotional outbursts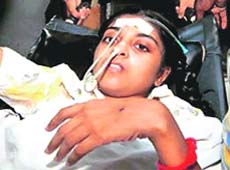 Shinjini Sengupta: After being rebuked by one of the judges in a dance competition on TV, she went into deep depression. As a result, she lost her speech and the use of her limbs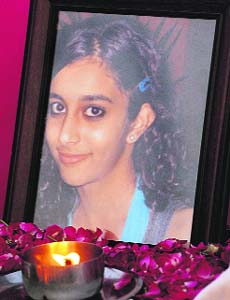 Aarushi Talwar: The circumstances of her murder were exploited by TV channels
THOSE were comparatively sedate, single-channel days with occasional ripples in the pond-sized Indian mediascape, like introducing colour television on the Delhi Asian Games eve, and adding a channel for regional telecasts, which kept us enthralled. Frankly, Doordarshan's monopoly did not irk most of us since we were blissfully unaware of the pleasures of channel surfing. There was the weekly movie, the Chitrahaar and drama in the form of tele-films, mythological serials etc. The arrival of the satellite television transformed India's mediascape into a lively entity of vast proportions.
The new era brought in a clutch of private operators beaming channels into our homes, each vying for maximum viewer-attention. Consequently, the conventional, all-inclusive macro programming, began to give way to more market-savvy niche programming — sprucing up the content quality and production values to match global standards.
Today we have more than 300 mainstream, regional and local television channels vying for eyeballs. With the traditional sitcoms and family dramas becoming too ubiquitous and monotonous, the need for innovative programming brought new compulsions. This is where the reality show has scored over other genres. It has a flexible format, doesn't need a script, professional actors, time-consuming rehearsals, costly sets and other accessories. Being relatively cheap and easy to produce, reality show has become the stock-in-trade of production houses.
The reality shows on Indian television can be categorised as comic (Laughter Challenge, Comedy Circus), talent hunt (Jo Jeeta Wohi Superstar, Boogie Woogie, Nach Baliye, Chhote Ustaad), action/game show (Roadies), celebrity show (Zindagi Issi Ka Naam Hai), documentary-style shows — also called mockumentary because the content is doctored to jazz up the presentation — (Haadsa, Crime File), makeover shows (I Superstar), IQ/GK tests (KBC, Kya Aap Paanchvi Pass, Business Baazigar), paranormal (Mano ya na mano, Aisa bhi hota hai) and some of them are just plain voyeuristic (Big Boss) — the enumeration is by no means exhaustive. However different their concepts might be, all reality shows, intrinsically run on the same path. They put ordinary people or celebrities in real-life/competitive situations and allow couch potatoes to enjoy the thrill of watching them perform like so many caged critters.
Actually, the term "reality TV" is a misnomer. All these shows involve a lot of inputs that modify reality beyond recognition. Rehearsals, artificial props and simulated situations rob the shows of reality. A child aspirant for Sa Re Ga Ma Pa Little Champ's latest edition admitted that participants have to do rigorous late-night rehearsals. They are even told what jokes to crack and what and how to speak in front of the camera, thus robbing the proceedings of spontaneity and hence reality. Then, there are attempts to spice up the proceedings through faux controversies. Take the instance of UK's infamous Big Brother. Jade Goody's racist remarks against Shilpa Shetty were clearly prompted by commercial interests. The two made up after the desired publicity was achieved. So, while Big Brother's TRPs shot up, Shilpa's flagging career perked up too. Big Brother's Indian avatar Big Boss also tried the controversy route to fame courtesy the ever-obliging Rakhi Savant, with Amit Roy, John Abraham et al chipping in. But not all reality TV-related controversies are simulated or harmless. Some, especially those involving children, are dangerously real.
Children and reality shows appear to have a bittersweet relationship. Talented youngsters are getting never-before opportunities to showcase their talents and bag lucrative offers in the bargain. On the downside, they are getting hurt emotionally and exploited economically. Exceptions like Kya Aap Paanchvi Pass Se Tez Hain's happy, well-paid whiz kids notwithstanding.
Before we examine the cases of those who, willingly or at the instance of their parents, take part in the so-called reality shows, let us recall the child who has posthumously become an unwitting victim of sensation mongering. After Aarushi Talwar's murder, her mother Dr Nupur Talwar became busy fighting the omnigenous monster called media that thrives on sensationalism. In her plea to the National Commission for Protection of Child Rights, she asked for a restraint order on the Balaji Telefilms' airing the episodes of one of its popular serials that allegedly are based on the 14-year-old Aarushi's murder case. "Stop commercialising our tragedy," she cried out. And Aarushi's aunt Vandana reinforced the angst-filled protest, "Don't use tragedy for TRPs."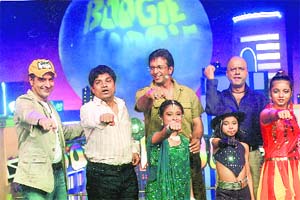 FLEETING FAME: Talent hunt programmes like Boogie Woogie tend to give anxious moments to small children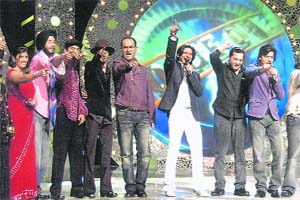 Frequent tiffs between the judges as well as the contestants in shows like the Voice Of India appear to be aimed at increasing audience ratings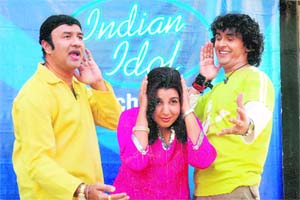 HARD TO PLEASE: Judges of The Indian Idol Annu Malik, Farah Khan and Sonu Nigam often made harsh comments about the participants' performance
But how many TV channels listened? All sorts of reality shows on India TV, Zee News, Aaj Tak, Star News, News24 etc, while telecasting simulated murder sequences, have been speculating on such 'newsy' aspects as the child's personal life ("Aarushi ka apne katilon se kya rishta tha?" asks the News24 anchor), her father's affairs and her mother's activities. On the other hand, NDTV 24X7 backed the Talwars to the hilt — be it via We the People or a special home video-based documentary highlighting the strong father-daughter bonds. Now that Dr Rajesh Talwar has been given a clean chit by the CBI, all those simulated murder scenarios aired by various channels will haunt the respective producers for a long time. Thanks to the remorseless media glare and ham-handed police investigations, the Talwar family has neither been allowed to mourn their only child's death nor perform the last rites properly. True, the media has sobered up a bit now, but immense damage has been done already. However, one fact cannot be denied. If the media, despite its tendency for overkill, had not highlighted the case, perhaps the Uttar Pradesh police would have cooked the Talwars' goose by now. But this does not absolve the media of the charge of invading and ignoring individuals' privacy and rights. Clearly, questions related to media ethics, along with somnolent public opinion and incompetent policing, need to be addressed urgently.
The school-going 16-year-old Kolkata girl Shinjini Sengupta's case highlights another sordid aspect of reality television. Like any other child of her age, she had been dreaming of making it big on the small screen. A good dancer, she has acted in Bengali tele-serials and a Bengali film. On May 19, during the shooting of a regional channel's dance competition, she was rebuked by one of the judges, which sent her into deep depression. A few days later she lost her speech and the use of her limbs, resulting in costly treatment in Bangalore. The doctors concerned have not yet made public the cause and nature of Shinjini's ailment, but there is reasonable circumstantial evidence pointing to the judge's rebuke as the trigger that set off the child's mental and physical debility. But the judges' rebuke is not peculiar to any particular participant or show. We have watched judges of Indian Idol regularly upbraiding young participants for not performing up to the expected standards. Sa Re Ga Ma Pa, once known for dignified proceedings — with Sonu Nigam as host and O. P. Nayyar as judge — has turned into an arena for clashing egos. Judges not only bicker among themselves but also target young participants with unwarranted criticism. For example, in the show's last series, a girl contestant, Koel, was chastised for singing a rather erotic song from the Bollywood flick Aitraaz. They did not stop at terming the song — chosen by the show's in-house creative team — as 'obscene' but went on to pass nasty remarks on her dress — which, too, was the choice of the show's production team. Obviously the child was caught in the crossfire of TRP chasing in-house politics. Another contestant, Sarika Singh, reportedly fainted on the sets as she feared tough treatment at the hands of the judges.
While the judges' behaviour on various reality shows is certainly questionable, the role of parents too comes under the scanner. Enticed by mega-rewards dangled by various reality shows like Chak de bacche, Sa Re Ga Ma Pa, Voice of India and Boogie Woogie, parents egg on their progeny to participate. There have been reports that people from small towns even sell off their land and property to finance their wards' tryst with fame and fortune.
There are many success stories of nobodies becoming celebrities that strengthen their resolve to push their progeny into the nerve-shaking world of competition-based reality shows. For example, Sunidhi Chauhan, a joint winner of Lata Mangeshkar Award in Meri Aawaz Suno has become a singing icon; Shreya Ghoshal became popular Bollywood singer after winning the Sa Re Ga Ma Pa Challenge trophy in 1996 as a 12-year-old; and the 14-year-old Aishwarya Majumdar has bagged lucrative deals after winning Amul Star Voice of India Chhote Ustaad in 2008.
But starry-eyed wannabes overlook the fact that out of thousands of participants, only a few make it to the winners' podium. For every Sunidhi Chauhan, there are hundreds of Shinjinis whose plight has not been documented. Post-participation traumas among the children who fail to make the grade have yet to be studied seriously by our social scientists and psychologists. And, we are unaware of the long-term psychological consequences for the children who taste success so early in life. After all coping with success can be psychologically stressful too.
Here, it would be pertinent to point out that the participating children don't get any emoluments for their performances. So, TV producers get a huge, malleable, enthusiastic and talented cast for peanuts. What goes out as prize money and other overheads forms a miniscule fraction of their revenues from sponsorships and advertisements. This is sheer exploitation. Surely, it is not so difficult to set up a statutory authority to ensure that all performing children get a decent remuneration? The most common rationale offered is that the country's potential stars are provided an opportunity to showcase their talent, and that the shows ensure limelight even for the also-rans. True, but must it involve child exploitation? After all, the participants are not mature enough to realise what is good for them. Lure of lucre and limelight prompts their parents to push them into situations that have long-term psychological and social consequences.
It is high time India-specific empirical data on child participants in various reality shows is collected, collated, analysed and published so that proper statuary safeguards are put in place and the artistes' interests protected. It is also time to redefine the reality television as it is understood in India presently, because there is nothing real about it.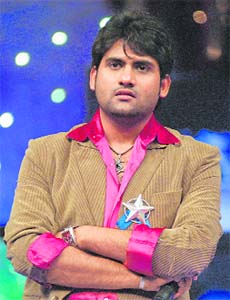 After losing twice in music contests due to audience voting, Harshit Saksena vowed never to participate in a reality show
Voting by viewers is now a permanent feature of reality shows. However, it provokes variegated responses in different countries. In the West, it is considered a healthy trend as it strengthens democratic values, apart from garnering viewer loyalty. But...
In 2005, the American show Pop Idol's Chinese version Super Girl became extremely popular. It reportedly drew an audience of around 400 million people, and eight million text message votes. This sent alarm bells ringing through the Beijing establishment, as it suspected that democracy was being promoted surreptitiously. So the show was banned on the grounds of vulgarity.
However, in India different types of fears are raising the head, viz., regionalism. There have been allegations that viewers vote on the basis of regional/linguistic affinity with the contestants rather than on merit. This is, some fear, going to lead to competitive chauvinism. For example, when Qazi Tauqeer from Kashmir won the Fame Gurukul contest on Sony Entertainment Television in 2006, there were reports that the ULFA openly asked the people of Assam to vote for the local lad Debojit Saha on Zee's Sa Re Ga Ma Pa Challenge. Conversely, some argue that such trends underscore our emotional belief that as Indians, all must have equitable share of the national-level fame.