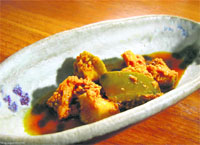 Spice of life
Making aam ka achaar is not a chore, it's a ritual
Jasmine Singh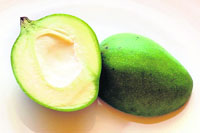 IN ordinary circumstances, the strong odour of mustard oil may put you off, but not when it is mixed with saunf, methi seeds, laal mirch and raw mangoes. Now, this aroma is a whiff straight from heaven! Come monsoon, and it's time for the ritual -- one you have practically grown up with: Your grandmom spearheading Operation Aam ka Achaar and other women in the family dancing to the "head chef's" tunes.

The S word
It's time the Met Office added Sale Season to the existing
four seasons!
Manpriya Khurana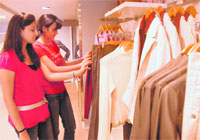 BUY two, get one free; Get up to 50 per cent off; Shop for xyz and get abc free. Even the wisest amongst us would be enticed. Forget about the monsoon, winter or the summer season, our favorite the 'sale season' is here. That time of the year, when almost everyone goes crazy hoping from shop to shop, when the queues at cash counters reminds you of a traffic jam. Photo by Pradeep Tiwari


Telly Tales
Women in white
Draped in chiffon, wearing kilos of pancake, Hindi serials' widows mourn loved ones
Jasmine Singh
A JOINT family, a young, dynamic, bachelor and dutiful son who handles a multi-crore family business (can't handle a paan ki dukaan for sure) but returns every night in time for dinner with the family.


Deepti aka Radha
of Zee's Parivaar


Shilpa aka Soni of Zee's Maayka

With a humane touch
S.D. Sharma
RARELY does one come across a prolific poet who is a Doctorate in Literature but deals in cash books, ledgers and accounts as part of his official commitment. Meet Punjabi writer Gurdarpal Singh, poet, literary critic winner of two state awards. Singh has managed to maintain a judicious balance between the dry profession of a bank accountant and his passion for creative writing. The writer is proficient in sculpting diverse genres of literature like poetry, short story and literary criticism. Tribune photo
All for folk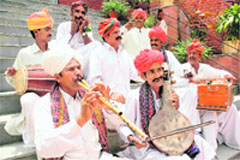 S.D. Sharma
"Folk music is the product of a musical tradition of a region, evolved through a process of oral transmission,"offers the globetrotting Rajasthani folk maestro, Gafoor Khan Mangniyar. In city for a live performance, Gafoor shared his views on the regional folk music, which he feels is loosing its pastoral flavour. He recited the origin version of popular Rajasthani folk song nimuda and brought alive its soul enriching aesthetic ingredient, which is missing in the filmy number from the movie Hum Dil Dey Chukey Sanam.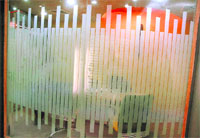 Hide it with élan
Black glass films are passé. Welcome to the world of designer imagery
Jasmine Singh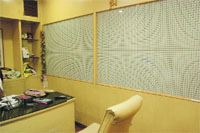 WHAT is the colour that comes to your mind when you think of films used in cars or offices, to keep the outside world at bay or to maintain secrecy? Black, right? This was long ago. Laminates and glass films have made a world of difference to the concepts of interior décor. Floor Square at Sector- 8 offers a whole range of commercial graphics and fashionable imagery, which can be applied on walls, glass, wood, steel and aluminum composite. Photos by Parvesh Chauhan

Jat Trendy!
Punjabi singers add finesse to their personality with
grooming lessons in personality development
Jasmine Singh


THEY are a global phenomenon, like their work. And now they've become trendsetters too. Punjabi singers are lapping up limelight in a big way. One reason why most of them have and some are still going in for extensive makeovers is complete personality development. From getting a cool haircut, refurbishing the wardrobe, to learning to talk with an angrezi accent, these singers are doing everything to look and sound presentable, rather jazzy.
Little Interview


One man, many roles
Manpriya Khurana
A HYDRAULIC engineer, ramp model and now actor. Sameer Dharmaadhikari's is a clear case of the right profession choosing the person. After working on ICICI, Nescafe, De Beers and Vimal Suitings campaigns, his first big break in Bollywood came with Satta. Now, he is on television for the first time with the serial Main Teri Parchhain Hoon on NDTV Imagine. We do some catching up:


Spice up
Stay fresh
Shahnaz Husain
Make-up for working women has to last throughout the day. If you are working in an airconditioned office, your make-up will stay fresh enough, but if your job involves travelling, or you are exposed to heat, you will need to 'touch up' your make-up. This means that you need to carry a few make-up items in your handbag.


Alba's 'Honor' steal
Into the Blue star Jessica Alba has revealed that naming her daughter 'Honor' was originally an idea conceived by one of her friends. The 27-year-old actress says that she had been brainstorming as to what to name her newborn baby girl.