The man of simple lines
By H.K. Dua
Editor-in-Chief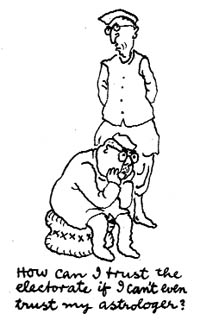 Those were bad times in India. Indira Gandhi had placed the country under emergency raj. Thousands of opposition leaders were arrested after midnight on June 25, 1975 and sent to undisclosed destinations.
A severe press censorship was imposed. Electricity of newspaper offices was switched off; the printing presses were locked. No one knew what would be the shape of things to come. The mood across the country was of anxiety and uncertainty.
Vidya Charan Shukla had been asked to take over the Information and Broadcasting Ministry. Apparently, Mrs Gandhi and her son Sanjay thought that he would do the job ruthlessly and Inder Gujral whom he had replaced would not. Shukla thought of addressing a press conference clearly to pass on the emergency message.
"We have imposed press censorship to stop the spread of rumours", Shukla said imperiously.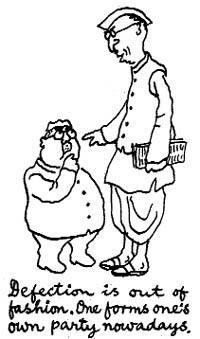 "But why stop the spread of humour", asked Abu Abraham, who was sitting next to me. Abu's impish remark helped in relieving the unspoken tension that could be seen building up in the press conference.
Mr Shukla did not seem to be amused at Abu's remark but the emergency raj never really stopped him from drawing cartoons for the Indian Express where both of us were working — Abu, a star cartoonist and I as a Special Correspondent covering politics for the paper. The Indian Express in its days of glory was bravely fighting Mrs Gandhi's creeping authoritarianism for some time and was a vocal opponent of the emergency raj.
Over the years, we became friends and often exchanged views on many things from politics to foreign policy, social questions and all that went under the Indian sun.
We often differed on the assessment of Mrs Gandhi, certainly after she had won the Garibi Hatao election in 1971. In a couple of years of the landmark election which gave her the massive mandate, Mrs Gandhi began concentrating more power in her hands and becoming authoritarian and intolerant to opposition criticism and agitations that were developing in different parts of the country.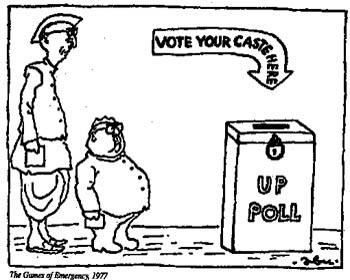 Whenever I complained to Abu that he was indulgent towards Mrs Gandhi's policies and an authoritarian streak that she was showing up lately, he asked "Who else but she could run a difficult country like India?" He was doubtful of the opposition leaders' capacity to manage the country.
"You are partial to Mrs Gandhi", I said.
"A bit", he replied.
His cartoons during emergency raj did not become the victim of censor's scissors. I have a feeling Mrs Gandhi must have directed censorship authorities to leave Abu alone.
It could also help her show an island of humour in the Indian Express, which was opposed to her emergency raj, and give the impression that she was tolerant to criticism after all. Obviously, she was against the Indian Express but was for Abu. Ram Nath Goenka could not have liked Abu's lenient view towards her.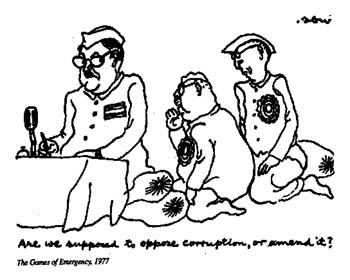 Despite the fact that he was soft on Indira Gandhi personally, he also started feeling disillusioned with the emergency raj. His famous cartoon showing the President of India Fakhruddin Ali Ahmed signing ordinances after ordinances in bathtub was his way of questioning the validity and need of the emergency raj, if not Mrs Gandhi herself.
Essentially, Abu's humour was subversive in character and not confrontationist. In his own way, he went on bringing out truth hidden under layers of hypocrisy and deceit that marked the politicians' promises and claims. He hated hot air that the politicians spewed every day. In a way, he was an iconoclast and went on questioning their brags in a gentle humour rather than using a hammer to pull them down from the pedestal.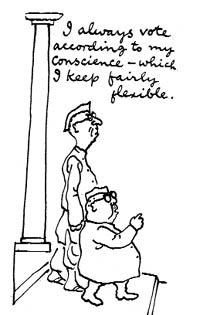 Rabindranath Tagore once said that it was most difficult to compose a simple line in music. Abu's lines were always simple. I often wondered how he in a few simple lines drew daily on a drawing board standing in his ramshackle cabin in the Indian Express and pack so much of thought, comment and humour while we take columns of space to convey our opinions.
He would not use a dagger to draw his cartoons lest he should make his comment harsh on his victim; he used a thick soft pen to make us all smile, if not laugh. He poked fun at the high and mighty, mocking at their ways and failings. His humour would not provoke hostility. His comment was generally without malice towards his victims. But that was Abu. If he felt anger, he kept it bottled up and ensured that the accompanying bitterness did not spoil his sketches.
Essentially, he was a gentleman who perhaps understood the value of understatement when he was in Britain drawing cartoons for The Guardian and The Observer. Great cartoonists like David Low might have influenced him as a young man in London when he was trying to carve out his career. After 15 years in London, he came to India and settled down as a cartoonist.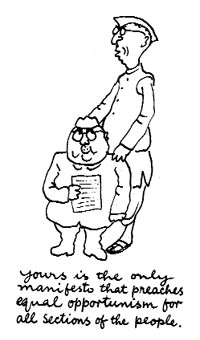 I met him for the first time during 1967 elections. The Election Commission had set up a press room at Hyderabad House — now State's Guest House — in New Delhi for announcing the results of the elections which were taking place first time after Nehru's death three years earlier.
I had seen Abu's cartoons in The Guardian and The Observer in the library and asked Abu in the lobby how was it that India's most prominent cartoonists — Shankar, Kutty, Vijayan and others — came from Kerala. He told me for thousands of years in Malayalam literature there has been a running streak of satire and a marked inclination to laugh at others which might be the reason for cartoonists coming more from Kerala than anywhere else in India. Even in day-to-day life, poking fun and pulling each other's leg are a common phenomenon in the street humour even today. "It is natural for us Malayalees to make fun of others. We enjoy doing so".
Abu used to go to the Indian Express early in the morning straight to his cabin and experiment with two or three ideas on a pad made out of cheap newsprint waste. He used to make a rough sketch and some times showed it to me and other colleagues just to see what kind of reaction it would evoke. If he spotted a smile on anyone of us, he would rush back to his cabin and if it did not evoke any reaction, he would conclude that the idea would not click. He would go back to draw another sketch that really clicked making lakhs of readers of the Indian Express laugh the next morning. This went on day after day, month after month and year after years in the Indian Express, until he moved on to Kerala. He told me he was missing it.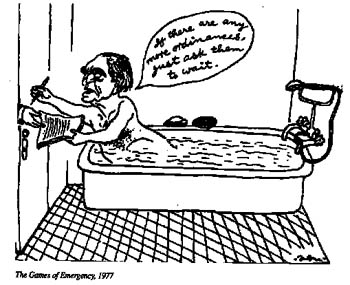 At the Indian Express, he drew a daily pocket cartoon and for four or five times in a week, a bigger cartoon. It is not easy for any cartoonist to come out everyday with a dash of humour that will have the essential truth of the political developments and yet make people laugh or smile at the same time. His cartoons always broke the monotony of the printed word and provided a breathing space on broadsheet paper full of excessive verbiage.
His pocket cartoons under the caption 'Private View' had two nameless bespectacled endearing political characters — one lean and tall and other short and fat, both wearing khadi and Gandhi caps. The tall sported a dhoti and the pot-bellied a churidar. Sunshine or rain, Abu never altered their dress code.
Obviously, they belonged to the Congress, which ruled the nation. Judging from their reflexes they could as well belong to any other party.
Throughout the time he spent at the Indian Express, the tall man and the fatty did not part company. The dialogues were essentially Abu's comments on the kind of politics he was seeing with a perceptive eye only a great cartoonist can have.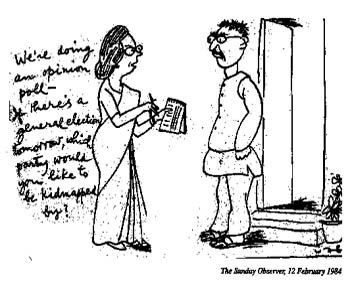 On the eve of cabinet reshuffle Abu showed the bleary-eyed fat man sitting next to the telephone, hoping like Micawber that Mrs Gandhi might call him up that night. After the reshuffle, he showed him sitting in a pensive mood and his friend, the tall man asking: "What is worrying you — the next 25 years or the next cabinet reshuffle?"
Abu hated defections. The tall man told the fat man once "Defection is out of fashion. One forms one's own party nowadays".
The fat man was generally grumpy and often looked stupid. The tall man, a bit on the clever side, always seemed to look down on his friend. One of those days when he was feeling lost somewhere, the fat man told the tall one: "How can I trust the electorate, if I can't even trust my astrologer!"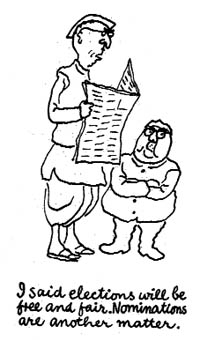 Essentially, Abu did not like either politics of sycophancy or hypocrisy, or false claims of performance. He himself was an honest man, giving a running commentary through his lines on events, men and matters and peeling skins to reach the core.
He always hated wars. He showed me some of the Vietnam war cartoons by some famous cartoonists he had collected. He published Verdict on Vietnam, a collection of cartoons from different parts of the world on the Vietnam war. If Abu was around us he would have hated the Iraq war with equal vehemence. Victims of his cartoons certainly would have been George W Bush Jr., Dick Cheney, Donald Rumsfeld and Tony Blair.
In Delhi, Abu lived at 153, Kaka Nagar. He had lots of plants in his house and seemed to be happy living with Psyche, whom he married later in Kerala. Misha, a dachshund, Masha and Putin were there. And some rabbits and ducks. They all lived in peaceful coexistence.
In Thiruvananthapuram, he built a house designed by the famous Laurie Baker who is known to have used local material. I happened to be in Thiruvananthapuram and visited his house called 'Sarnam', a shelter, which was built around a courtyard and plenty of foliage and fishes in many colours swimming around in a little pond. He wanted to see a slice of sky from his house.
Like simple lines in his cartoons, Abu wrote exceedingly well in short, simple prose. He came out with a series of articles on the 'Windbags of India'. I liked the article he did on none else than a celebrity judge, Justice V.R Krishna Iyer, who poured out plenty of wisdom in his judgements and newspaper articles that were generally yards in length. It was too clear Abu hated verbosity just as he did pomposity.